Egypt 'kidnapping': Two British tourists are freed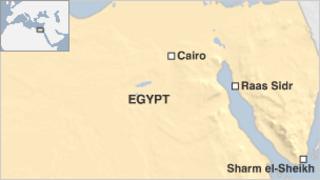 Two British tourists who were kidnapped in Egypt on their way to a beach resort have been freed, South Sinai security chief Mahmoud Al-Hefnawi told the BBC.
The pair are thought to have been in a car travelling from Cairo to the Sharm El Sheikh resort when they were seized near the South Sinai city of Raas Sidr.
The Foreign Office had said it was "looking into" the kidnap reports.
Security in the isolated desert region has deteriorated since the overthrow of President Hosni Mubarak two years ago.
South Sinai's Red Sea coast is a major north African tourism hub.
The BBC understands the pair are a man aged 51 and a 49-year-old woman.
The AFP news agency said they were a husband and wife, adding that the kidnappers told reporters they wanted the release of four people held over arms trafficking.
Egyptian Bedouins have pressed for the release of captive tribesmen they say have been sentenced unfairly on charges ranging from terrorism to drug dealing and people trafficking across the border into Israel.