Fake bomb detectors sold by businessman, court told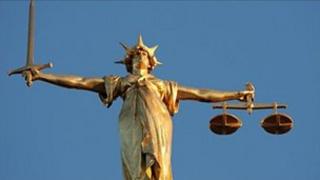 A businessman sold fake bomb detectors to Iraq, Saudi Arabia, Georgia and Niger, the Old Bailey has been told.
James McCormick's Advanced Detection Equipment was based on a golf ball finder device and marketed to military, governments and police, the jury heard.
Prosecutors said fake detectors sold for up to $40,000 (£27,000) had no grounding in science and made "fantastic" claims.
Mr McCormick, 56, of Langport, Somerset, denies three counts of fraud.
Richard Whittam QC, prosecuting, said brochures featuring men in military-type outfits promised detection of substances from planes, underwater, underground and through walls.
However, he said, the three models - the ADE650, 651 and 101 - were shams and did not work.
The prosecution said scientific tests showed the devices to be completely ineffectual and lacking any grounding in science.
Mr Whittam said the forerunner of the 101, the 100, "was actually a golf ball finder" advertised as a "great novelty item" that could be purchased in the US for less than $20 (£13).
New components were produced for the other models, including sensor cards that slotted into the machines, the court heard.
'School physics'
Mr McCormick had put an International Association of Bomb Technicians and Investigators' logo on his products, which he was not entitled to use, said Mr Whittam.
The prosecutor added that the devices were variously marketed as being able to detect all kinds of explosives, including TNT, drugs and even ivory, fluids and human beings.
"The devices did not work and he knew they did not work," said the barrister.
Mr Whittam went on: "He had them manufactured so that they could be sold - and despite the fact they did not work, people bought them for a handsome but unwarranted profit.
"He made them knowing that they were going to be sold as something that it was claimed was simply fantastic.
"You may think those claims are incredible."
The court heard after his arrest Mr McCormick said he had been using basic high school physics to devise a mock version of the detector which worked.
The case is expected to last about three weeks.