Heroin and crack use falling says National Treatment Agency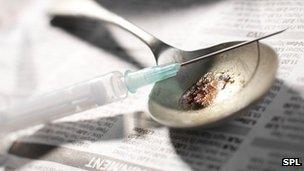 The number of people aged under 35 using heroin and crack in England is "plummeting", research suggests.
The National Treatment Agency for Substance Misuse (NTA) says there were 298,752 users in 2010/11 - the lowest number since its launch 12 years ago.
It said England's treatment system helped to "shrink the pool" of addicts.
The NTA will close at the end of March and the management of the issue will subsequently be handed over to Public Health England (PHE).
Local authorities are being given ring-fenced grants to spend on public health services, including substance misuse treatment from April.
It comes after research revealed the number of heroin and crack users fell to 298,752 from a peak of 332,090 in 2005/6.
The most recent number of users is the lowest figure since 2004/5, when the NTA started using its current methodology to calculate drug use.
The number of those injecting drugs has also fallen, from 129,977 in 2005/6 to 93,401 in 2010/11.
Paul Hayes, chief executive of the NTA, said use of the most dangerous drugs among those under 35 "isn't just falling, it's plummeting", adding that there was no evidence to suggest drug users were switching from heroin and crack to so-called "legal highs", which he said were different markets.
However, he added that the proportion of those aged over 35 being treated for drug use is increasing, and they are often more difficult to help because of the amount of time they have been dependent on illicit substances.
"The drug population is ageing. We have very few people in their teens and twenties using heroin and crack, and more in treatment in their 40s and 50s who are frailer, iller and more difficult to turn around in the system," he said.
Mr Hayes said that drug-related crime is "significantly down", with the NTA estimating that drug treatment prevented some 4.9 million offences from taking place in 2010-11, by comparing rates of offending before and after treatment.
He said local authorities were well-placed to bring together the different support networks needed by drug users, but added: "The strong recovery ambition called for in the government's 2010 drug strategy, and the investment in treatment, must be maintained if we are to consolidate and build on the gains we have made."
Mr Hayes said the NTA was handing over a "world-class drug treatment system" to PHE but stressed that investment had to be maintained when management was transferred on 1 April.
NTA director of delivery Rosanna O'Connor, who is set to become PHE's head of drugs and alcohol, said there would be challenges ahead.
She said the "wider benefits of drug treatment", such as aiding community and family cohesion, meant it was in the best interest of local authorities to maintain the current approach to funding.
The NTA's report, Falling Drug Use: The Impact of Treatment, stresses that strong leadership would be needed to maintain the downward trend in the number of drug users.
It says: "One of the main threats is complacency - assuming that drug users will continue to have rapid access to evidence-based treatment, come what may.
"In this case, we need to remember the situation before 2001 and be determined that we don't allow it to slip backwards.
"This will be vital given the heavy competition for public health money from a range of other pressing issues and concerns."
Related Internet Links
The BBC is not responsible for the content of external sites.