Andrew Marr leaves hospital after stroke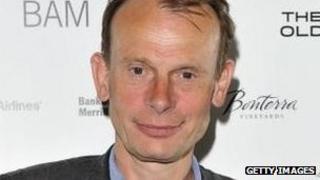 Broadcaster Andrew Marr has left hospital almost two months after suffering a stroke, the BBC has said.
It added the presenter, who was taken ill on 8 January, will continue his rehabilitation via a physiotherapy regime at home.
The 53-year-old hopes to "recover privately" and is expected to return to work later this year.
He is best-known for presenting BBC One's Andrew Marr Show and Radio 4's Start The Week.
A BBC spokeswoman said: "Andrew Marr left hospital earlier on today and continues his rehabilitation at home with his family.
"He says thank you to all the wonderful nurses, doctors and physiotherapists at Charing Cross hospital [in west London] who have looked after him so well.
"He is looking forward to a new regime of physio at home as he prepares for his return to work later this year."
"He and his family hope that people will respect the fact that he wishes to continue his recovery privately," the statement concluded.
Born in Glasgow, Marr began his career in journalism on The Scotsman newspaper in 1981, later moving to London to become its political correspondent.
He was part of the team which launched The Independent in 1986, later becoming its editor, and joined the BBC as political editor in May 2000.
Marr has also presented a number of history programmes along with his politics show, and has had five books published.
He is married to journalist Jackie Ashley and has three children.