Newspaper review: Papers angry over British Gas profits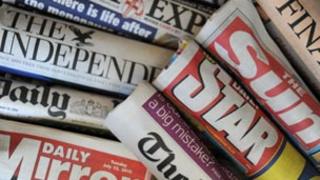 There is anger that British Gas has reported a jump in profits, only months after putting up fuel bills.
It is the lead for the Guardian and the Daily Express.
The Daily Star sees what it calls an increasingly familiar picture.
Executives get big bonuses and shareholders get handsome dividends, while hard-up families shiver in their homes as they ration their heating so they can pay their bills.
For the Daily Mail, increasing profits to 11% in the midst of a financial crisis is testing consumer tolerance to the limit.
The Daily Mirror describes it as a breach of trust.
The Daily Telegraph reports that pensioners living in rural areas could be given their winter fuel payments in summer time to allow them to take advantage of lower energy prices.
According to the paper, Energy Minister Baroness Verma has promised to consider a suggestion by Plaid Cymru peer Lord Wigley to pay the allowance early so that pensioners can plan ahead.
The move could benefit more than a million pensioners in the countryside who are not on the National Grid, meaning they buy their own oil or gas.
Mortality rates
The Daily Mail says a specialist on hospital performance, Professor Brian Jarman, believes several NHS trusts may be fiddling figures to mask the number of patients dying needlessly.
His suspicions are reported after the head of the Bolton NHS Foundation Trust stepped aside while experts investigate an alleged cover-up over death rates.
Professor Jarman is quoted as saying that, over the past five years, hospitals have lowered mortality rates by recording the wrong cause of death - though they deny this.
A spokesman for the Bolton Foundation Trust tells the Mail there are not any clinical concerns regarding the care of patients but questions need answering about how the trust reports details.
Volunteering spirit
The idea of paying school governors - put forward by the Chief Inspector of Schools for England, Sir Michael Wilshaw - is rejected out of hand.
For the Daily Telegraph, taking money out of a struggling school's budget to pay a banker or a barrister seems like robbing Peter to pay his wealthy cousin, Paul.
Most of all, the paper adds, this could crush the volunteering spirit that David Cameron's Big Society has tried to foster.
The Guardian says busy people such as plumbers and lawyers give up their time because they want to be involved in helping to create a good school in a strong community.
Money does not come into it, it adds.
Instant advice
Finally, Google is replacing grandparents, according to a headline in the Daily Mail.
It says a study suggests that most grandparents say their grandchildren do not ask them questions that can be looked up on the internet.
These are queries such as "What was it like when you were young?" and "How do you iron a shirt?".
Ninety-six per cent said they asked far more questions of their grandparents when they were young.
The people who carried out the research say grandchildren find it much easier to search the internet for instant advice.