Litvinenko inquest: Coroner examines secret files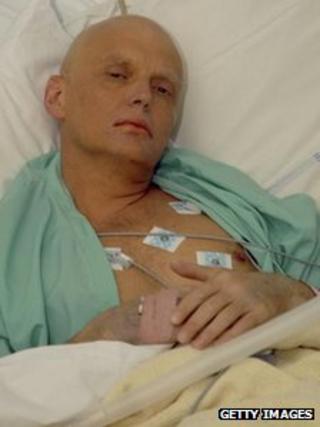 The judge due to preside over the inquest into the death of Russian spy Alexander Litvinenko is to examine secret documents to decide whether more information can be made public.
Sir Robert Owen will look at the government files in a closed hearing.
He announced the plan at a pre-inquest legal review considering the scope of the inquest, due to start in May.
Mr Litvinenko, 43, was poisoned in London in 2006 - allegedly at a meeting with two Russian former KGB contacts.
The UK government is seeking to prevent certain details relating to the case from being placed in open court for security reasons.
Ben Emmerson QC, lawyer for Mr Litvinenko's widow Marina, has suggested this should be treated with the "greatest degree of scepticism" and seeks to conceal details of Mr Litvinenko's ties to MI6.
Sir Robert will examine a bundle of secret documents, in the company of counsel for Foreign Secretary William Hague, to decide if more can be made public on the government's reasons for wanting each of the documents kept secret.
It is not clear when the closed hearing to study the government files will take place.
Speaking at the Royal Courts of Justice in central London on Wednesday, Sir Robert said: "I intend to conduct this inquest with the greatest possible degree of openness and transparency."
Highest levels
The UK government's public interest immunity (PII) application to exclude sensitive information is being opposed by lawyers for Mr Litvinenko's widow as well as media organisations, including the BBC.
Sir Robert insisted he would subject the application to the "most stringent and critical examination", and that the inquest would be a "full, fearless and open investigation into the circumstances of Mr Litvinenko's death".
The hearing was adjourned until March.
Following the judge's ruling on examining the government files, Mrs Marina Litvinenko said: "It isn't an ideal decision for us but it could have been worse".
She added: "I have to trust the coroner. I must trust him, I have no option. I believe he will do exactly what he says."
At the hearing on Tuesday, Mr Emmerson had argued that attempts to withhold evidence pointed towards a conspiracy at the highest levels of government.
"The British government, like the Russian government, is conspiring to get this inquest closed down in exchange for substantial trade interests which we know [Prime Minister David] Cameron is pursuing," he said.
The pre-inquest review has previously been told that Mr Litvinenko was working alongside Spanish spies for MI6 in the days before his death.
British government documents that implied Russia was behind Mr Litvinenko's death have also been revealed. Moscow has denied any involvement.
Russia has refused to extradite main suspect Andrei Lugovoi, to the UK for questioning. He has also denied any involvement.