Egypt hot air balloon tragedy: Tributes paid to victims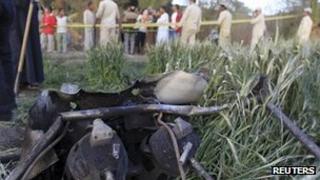 Neighbours, relatives and friends have been paying tribute to the victims of the Egypt hot air balloon tragedy.
Joe Bampton from London, 40, and his Hungarian-born girlfriend Suzanna Gyetvai, 34, were described as being "very much in love".
Medical receptionist Yvonne Rennie, 48, from Perth, was said to be "very popular and well-liked".
Her husband Michael was one of only two people to survive Tuesday's crash near Luxor, which killed 19 people in total.
The 49-year-old is said to be in a stable condition in a hospital in the ancient city of Luxor. The pilot also survived.
The Egyptian authorities have grounded all hot air balloon flights in the country, while they investigate the fatal crash which happened near Luxor.
The balloon is said to have been 1,000 ft (300m) in the air when it exploded, caught fire and fell on to agricultural fields.
Witnesses described hearing a loud explosion before seeing plumes of smoke as it caught fire. They also reported seeing people jump out of the balloon.
'Tragic loss'
Mrs Rennie worked as a senior administrative officer at Perth Royal Infirmary. It is understood her husband is employed in the construction industry.
A statement released by NHS Tayside described Mrs Rennie as a "highly valued member of the radiology department team, providing excellent service in helping to deliver patient care."
Douglas Mitchell, Perth Royal Infirmary's radiology manager, said: "We are in shock at the sudden and tragic loss of Yvonne.
"She was a much-loved colleague who enjoyed her job, and her tragic passing has had a huge impact on all of us who knew and worked with her. She will be sadly missed."
Mr and Mrs Rennie were described as "very nice people" who only spent the weekends together due to work commitments.
Neighbour Linda Kettles said: "They were very, very nice people who kept themselves to themselves.
"They've gone on holiday to enjoy themselves. They only get the weekends together and any break together is good for them.
"They were really looking forward to getting away. I'm totally devastated by the news. I really feel for their families."
The couple moved from Dundee to Perth about 10 years ago and although they had been together for a "long time" they were married only recently, Ms Kettles said.
Speaking to the Sun newspaper, Mr Rennie's father John, 80, said: "It's terrible. They were very much in love and Yvonne was very popular and well-liked."
'Lovely couple'
Mr Bampton and Ms Gyetvai, from Clapham, worked as valuers at the Lots Road Auctions in Chelsea. He specialised in rugs, carpets and antiques, while she was a general valuer with the company.
Managing director Roger Ross told the Daily Telegraph he considered Mr Bampton "as a son".
Senior auctioneer Nick Carter told the Sun: "We are all frightfully shocked. They had spoken a lot about going on this trip to Egypt. They had mentioned the balloon trip to other members of staff - Joe wanted to see the sunrise.
"They were two people very much in love and a lovely couple."
Ms Gyetvai was a contemporary artist who used the professional name Zsi Chimera. She worked in a variety of media including silk-screen printing, etching and collage and had exhibited extensively.
Mr Bampton was also an artist. He studied at London's Slade School of Fine Art and has exhibited in London, Liverpool, Paris and Berlin.
The Liverpool Echo reports Mr Bampton was originally from Wallasey in Merseyside and the former St Mary's College pupil was a well-known face on the Liverpool art scene. After finishing school, Mr Bampton went to Wirral Metropolitan College before studying at Slade School.
Schoolfriend Sean Dutton said he was "a fantastic artist", adding: "He was a quiet, calm bloke with a dry and wicked sense of humour, a lovely man with a striking wit."
The cause of the crash is still being investigated but is believed the balloon had been in the process of landing when a landing cable got caught around a gas tube and a fire erupted on board. The balloon then quickly gained altitude before the fire caused the gas canister to explode
The other passengers who died included holidaymakers from France, Hong Kong and Japan.
Balloon rides are a popular way to see the numerous ancient sites which line the banks of the River Nile at Luxor, in the south of Egypt, such as the temple of Karnak and the royal tombs in the Valley of the Kings.