Vicky Pryce retrial hears judge investigated over Huhne story 'lie'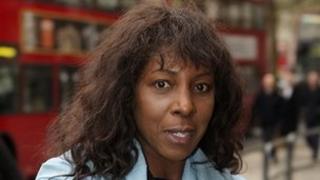 Police are investigating a barrister and part-time judge for allegedly lying about helping to leak the Chris Huhne speeding points story, a trial heard.
Constance Briscoe, a friend of Huhne's ex-wife Vicky Pryce, was arrested after telling police she had not been in contact with the media about the story,
Ms Pryce is accused of taking speeding points for Huhne in 2003. She denies perverting the course of justice.
Last week, her trial was halted after the jury failed to reach a verdict.
Ms Pryce, who claims she was coerced by her then-husband into taking the points, told her retrial that the former Lib Dem minister was strong-willed, controlling and dismissive of others.
She told the court she had been "dead against" him becoming an MEP.
Left wife
Huhne and Ms Pryce were charged last year over an incident in March 2003 when Huhne's car was caught by a speed camera on the M11 between Stansted Airport, in Essex, and London.
It is alleged that between 12 March and 21 May 2003, Ms Pryce, 60, from Clapham in south London, falsely informed police that she had been the driver of the car so he could avoid prosecution.
Huhne had a history of speeding and was in danger of losing his licence, having already accrued nine penalty points.
The court heard Ms Pryce, helped by Ms Briscoe, had told journalists about the story to get revenge on Huhne after he had left his wife for PR adviser Carina Trimingham in June 2010.
Prosecutor Andrew Edis QC read jurors a statement from Detective Inspector Martin Passmore explaining why Ms Briscoe would not be called on to give evidence.
"Ms Briscoe has provided statements to the police in this case, but during the investigation it became apparent that she may have lied about her involvement with the press and that she denied having any contact with the Mail on Sunday or any other media organisation in relation to this story," his statement said.
On Monday, Mr Edis had told the court that Ms Briscoe had been a friend and neighbour of Ms Pryce.
"I think she had also had a difficulty in her marriage and they appear to have got closer to each other," he said.
"The two of them appear to have cooked up a plan to go and see the press about Huhne and taking points.
"They started it together by approaching a man called Andrew Alderson."
Mr Alderson was a freelance journalist working to provide the story to the Mail on Sunday, the court heard.
Mr Edis said Ms Pryce and Ms Briscoe told Mr Alderson that Huhne had passed speeding points to Jo White, an aide to him in his constituency in Eastleigh, Hampshire.
He said: "The story they were giving the papers was Jo White took points for Huhne when he had nine points. Well, of course, that was a complete lie because the person who took points for Huhne when he had nine points was her [Ms Pryce]."
The jury was told about emails between Ms Briscoe and Mr Alderson, and Mail on Sunday news editor David Dillon.
One email from Ms Briscoe to Mr Dillon on 30 November 2010 explained that the "relevant person" had been "bullied and pressurised" into taking Huhne's points.
It said: "Finally, you will appreciate that I have no particular interest in this story save that I have been asked to act as an intermediary on behalf of the relevant person."
'Damage chances'
Giving evidence on Tuesday, Ms Pryce said that, despite her misgivings over Huhne becoming an MEP, he had been very ambitious and politics had dominated.
Ms Pryce said the marriage had been stable in 2002 and 2003, but there was tension because of her husband's absences while he was working as an MEP.
She said he had been desperate to avoid a driving ban after being caught speeding because he feared it would damage his chances of becoming a prospective Parliamentary candidate in Eastleigh, Hampshire.
Continuing her evidence, Ms Pryce said she had received a form nominating her as the driver, after Huhne had informed police this was the case.
"I'm afraid I swore. I was quite incensed," she said. "It was a fait accompli. If I did not sign, my marriage could be over. He would blame me forever.
"All the family knew how angry and upset I was."
Huhne resigned as MP for Eastleigh earlier this month after pleading guilty to perverting the course of justice.