Police and crime commissioner elections 'failed voters'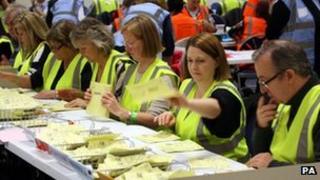 The elections for police and crime commissioners "failed both candidates and voters alike", a report by the Electoral Reform Society has said.
The polls took place in 41 police force areas in England and Wales, and had a turnout of just 15%, a peacetime low.
The Electoral Reform Society said a poll it commissioned showed almost 90% of people still do not know who their elected representative is.
The Home Office said it would look at the points made in the report.
PCCs replaced police authorities in England and Wales - except in London - in what the Home Office described as "the biggest democratic reform in policing in our lifetimes".
The commissioners will be in post until 2016 and will have the power to set policing priorities, budgets and also to hire and fire chief constables.
'Left in the dark'
In its report, the Electoral Reform Society, an independent campaign group, described November's elections as "chaotic".
It said turnout was affected because they were held in winter, and voters were not given enough information.
A Populus poll commissioned by the society, and carried out last month, showed just 11% of the 1,624 respondents knew who their elected PCC was, it said.
The society has recommended that:
Another major election should never be held in winter months, as it discourages people from turning out
Voters should not be "left in the dark" about who or what they are voting for
There should be a level playing field for candidates through well-designed election rules
Katie Ghose, chief executive of the Electoral Reform Society said: "This was a flagship policy designed to reconnect the public and the police. Yet, after spending £75m, nearly 90% of Britons have no idea who their elected police and crime commissioner even is.
"November's bungled poll failed both candidates and voters. Government mismanagement has handed our elected commissioners a poisoned chalice, and it remains unclear how they can overcome it.
"The Electoral Commission's forthcoming review must not pull its punches. The government has singularly failed to accept any responsibility and would like to see nothing more than a whitewash."
'Bigger mandate'
Last week, the Home Office was criticised for not having "sufficient resources or the level of expertise" required to run effective elections.
The Association of Electoral Administrators (AEA) - a body for electoral staff, which has more than 1,700 members - also criticised the timing of the PCC elections, saying it was "not in the interests of voters".
The Home Office gave an identical response to the latest criticisms.
"More than five million people turned out to vote for the first ever election of police and crime commissioners, giving them an infinitely bigger mandate than the unelected and invisible police authorities they replaced," a spokeswoman said.
"That number will only grow in the future as people see the real impact PCCs are already making in their areas, delivering on public priorities in tackling crime.
"The Home Office will look at the points made in this report, along with the conclusions of the Electoral Commission's upcoming assessment."