Police forced retirement 'justified'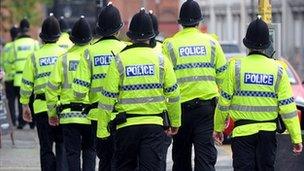 A police force accused of age discrimination was "justified" in forcibly retiring officers who had served 30 years, a tribunal has heard.
Cases have been brought on behalf of over 250 officers over "regulation A19", which compelled them to retire.
Nottinghamshire Police told the tribunal discrimination was justified because of the "budget situation".
Five police forces are contesting test cases after hundreds of officers were forced out of their jobs.
Triggered by the government's comprehensive spending review, police officers below chief officer rank with 30 years' experience were forced into retirement under the policy called regulation A19.
The Central London Employment Tribunal is hearing the test cases from the Nottinghamshire, West Midlands, Devon and Cornwall, North Wales and South Wales forces.
Margaret Monckton, the assistant chief officer for resources at Nottingham Police force, said in her witness statement said it had "monetary savings to be made in the region of £42m".
The tribunal heard the decision to implement regulation A19 was made by the Nottinghamshire Police Authority after a meeting in December 2010, despite a 44-page advisory report drawn up by lawyers warning the policy could breach employment laws on age discrimination.
Paul Gilroy QC, representing claimants from the Police Superintendents' Association, told the tribunal that "100 people's careers were terminated" in a meeting that lasted only an hour.
During his cross examination he said the matter of regulation A19 was only discussed during an item called "workforce change" - one of 11 items on the agenda.
Asked if that was a suitable amount of time for the discussion, Miss Monckton replied: "There were a lot of discussions in the run-up to this meeting, so I know that this was a very difficult decision for the police authority."
He asked Miss Monckton if she thought she should have taken "personal responsibility" to inform the police authority of the need for proper justification for age discrimination.
She said she did not, to which Mr Gilroy replied: "That's an absolute travesty."
The tribunal judge, James Taylor, interjected to put it to Miss Monckton s that Nottinghamshire Police could be in "treacherous waters" if it did not have a justification for age discrimination.
"I have to say I think our concern was how to maintain performance, if we are going to reduce our workforce," she replied.
"There was an awareness of the age discrimination perspective on this, but we felt that he had justification for it, given the budget situation. I'm afraid that's all I can remember."
Related Internet Links
The BBC is not responsible for the content of external sites.