Murder charges against two marines dropped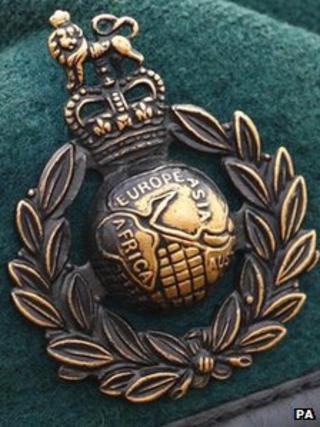 Murder charges against two Royal Marines, suspected of killing a prisoner in Afghanistan, have been dropped, the Service Prosecuting Authority (SPA) as confirmed.
The pair, from Plymouth-based Royal Marine 3 Commando Brigade, were among five marines facing court martial.
Three other marines are due to enter pleas against the charge in March.
The SPA said the decision was made as part of their "duty to conduct a continual review" of the evidence.
The incident is believed to have happened on or around 15 September 2011 while the servicemen were on active duty in Afghanistan.
In a statement issued on 6 February, the SPA said proceedings against the marines, known as D and E, had been formally discontinued.
It said: "This decision will be declared formally at the next hearing of this case before the court martial.
"Proceedings are maintained against the other three marines (A, B and C) on the charge of murder of an unknown captured person."
An anonymity order, granted last year to protect the identities of the five accused by the judge advocate general Cmdr Jeff Blackett, will remain "in full force in respect of all five" marines until further instruction.
Making the ruling last November, Cmdr Blackett said the suspect would be at risk from "organised terrorist activity and 'lone wolves'", if their names to be made public.
The marines were arrested by the Royal Military Police in October, after suspicious video footage was found on a serviceman's laptop by civilian police in the UK.
It is believed to be the first time UK servicemen have been arrested and charged with murder during the Afghanistan conflict.