Lord McAlpine drops some Twitter defamation cases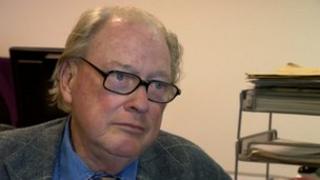 Lord McAlpine has dropped defamation claims against some Twitter users who wrongly named him as a paedophile.
He will not pursue action against those with fewer than 500 followers, but will instead ask for a donation to the BBC's Children In Need, he has said.
It comes after a Newsnight programme led to the former Tory treasurer being wrongly accused of child abuse.
He says he wanted his lawyers to focus on his libel action against the Speaker's wife, Sally Bercow.
In December, Mrs Bercow's lawyers, Carter-Ruck, said that Lord McAlpine's legal team had made a claim for libel damages, limited to £50,000, over a tweet she sent regarding the Newsnight investigation.
In a statement, Lord McAlpine said he would like to bring the "unfortunate episode" to a close and would cover all administration costs for the low-circulation Twitter libels.
He said: "I have dropped all claims against those tweeters with less than 500 followers, in return for a very modest donation to BBC Children In Need, which funds 2,600 projects supporting disadvantaged children and young people in the UK.
"I have requested that my lawyers, RMPI LLP, focus on the action against Sally Bercow and that damages arising from this are donated to a charity of her choice.
'Public hatred' fear
"I am not intending to make any further comment on this matter."
The BBC paid £185,000 to him in damages after a libel settlement was agreed.
The BBC and ITV were the first of a number of organisations and individuals to face legal action.
The peer had previously said it was "terrifying" to find himself "a figure of public hatred".
The Newsnight broadcast on 2 November was about historical allegations of child abuse at care homes in north Wales.
Former Conservative Party treasurer Lord McAlpine was not named in the broadcast, but he was incorrectly linked to the claims on the internet.
Newsnight carried a full, on-air apology for the broadcast a week later when it become clear that Lord McAlpine was not involved.
A settlement was reached with ITV and Phillip Schofield in relation to a This Morning programme broadcast after the Newsnight programme, during which the presenter handed the prime minister a list of names of alleged abusers he had found on the internet.