Mali conflict: British soldiers to train armed forces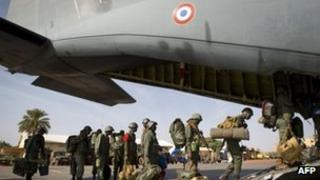 British soldiers will be deployed to Mali for up to 15 months to carry out infantry and artillery training, the government has announced.
Defence Secretary Philip Hammond said the UK would contribute 40 personnel to a EU training mission due to start in the spring.
This is in support of Malian troops fighting Islamist extremists in the west African country.
Ministers have stressed that UK forces will not be involved in a combat role.
Twenty-one soldiers from 1st Battalion Royal Irish Regiment will do the infantry training and 12 personnel will carry out mortar and artillery training.
Military protection
Four UK personnel will be headquarters-based and three civilians from the Foreign Office's Preventing Sexual Violence Initiative will provide human rights and gender awareness training.
Six infantry trainers from the Republic of Ireland will add to the team.
Mr Hammond said: "We welcome the Irish contribution which will help develop further working relations between our two countries."
Troops from France and the Czech Republic will provide military protection for the training team.
The UK has also offered up to 200 personnel to train troops from neighbouring African countries which are preparing send a military stabilisation force to Mali.
France intervened in Mali last month to help its army oust Islamist militants in the north of the country.