Half of rail firms have low satisfaction levels, survey finds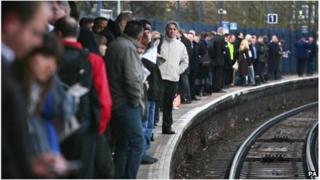 More than half of train companies have a customer satisfaction score of 50% or lower, a survey by the consumer group Which? has found.
Only 22% of the 7,500 rail users in the survey felt their service was improving - despite big fare rises last month.
Which? executive director Richard Lloyd said this was disappointing as most travellers could not "shop around".
However, last month a larger survey suggested the number of satisfied rail passengers was at a record high of 85%.
The National Passenger Survey by Passenger Focus asked 31,626 travellers, while the Which? survey was compiled from responses from 7,500 regular rail users.
The most popular rail company, according to the Which? survey, was Virgin Trains (67% satisfaction) which almost lost its West Coast main line franchise in October.
Shadow transport secretary Maria Eagle said: "While taxpayers continue to fund the rail industry to the tune of £3.5bn every year, rail companies must do better and the government needs to hold them to account on behalf of passengers and taxpayers."
'Basket cases'
Bob Crow, general secretary of the RMT transport union, said: "It is about time these basket case private train companies were booted off Britain's railways for good and their franchises returned to public ownership."
But a spokesman for the Association of Train Operating Companies said: "The independent watchdog Passenger Focus surveys up to eight times as many people a year and last month reported 85% of passengers are satisfied with their service - a record high."
Which? executive director Richard Lloyd said: "With 1.5 billion train journeys made every year and eight of the 17 UK rail franchises up for grabs in the next two years, customer service should be top of the agenda for every train operating company.
"Passengers tell us they are fed up with trains that are delayed, overcrowded and dirty. This is especially disappointing as many commuters can't shop around or change the company they travel with," he added.