Horsemeat scandal: FSA hands evidence to Europol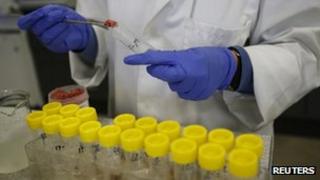 Evidence seized from three UK premises as part of the horsemeat investigation has been handed to Europol.
Food Standards Agency (FSA) officers and police took computers, documents and meat samples from two premises in north London and one in Hull on Friday.
Three men arrested as part of the horsemeat probe have been bailed.
Meanwhile, 31% of 2,002 adults questioned for a survey for two Sunday newspapers said they had stopped eating ready-meals as a result of the scandal.
The ComRes survey for the Sunday Mirror and Independent on Sunday found 7% had stopped eating meat completely and that 53% were in favour of a ban on all meat imports "until we can be sure of their origin".
'Utterly wrong'
The survey, carried out on 13 and 14 February, also found 44% agreed with the statement "the government has responded well to the findings of horsemeat in ready meals" with 30% disagreeing.
Earlier, Labour leader Ed Miliband had criticised the government's reaction to the crisis. "I think they've been too slow to get a grip on this situation," he said.
"I think the retailers do have a responsibility but I also think the government has not been as sure-footed as it should have been in its handling of it."
But a Defra spokesperson responded: "It is utterly wrong and misleading to suggest that the government was slow off the mark.
"The FSA reacted immediately when it was alerted to the presence of horsemeat in beef products."
Dyfed-Powys Police and FSA officials are continuing inquiries at Farmbox Meats near Aberystwyth.
The three men who were bailed earlier had been arrested on 14 February on suspicion of fraud. Two were aged 64 and 42 and from the Aberystwyth area the third was 63 and from West Yorkshire.
The FSA said it has submitted a "full file" on its horsemeat investigation to Europol - the EU's law enforcement agency - and the information is being analysed in 35 countries, in Europe and elsewhere.
On Friday, FSA chief executive Catherine Brown said the agency had not brought any of its own prosecutions so far, but she did not rule out future legal action.
Ms Brown said she remained "confident" that testing was the right way to address the issue.
"It is industry's responsibility to get this right - not the government's - and we consider that a comprehensive testing programme at all points of the supply chain and in all sectors is an essential step in addressing this issue.
"And as this programme of testing and publishing results continues, and as action is taken to tackle this issue in supply chains across Europe, we will reach the point where we can say with confidence that horse meat is no longer illegally entering the UK food chain."
The deadline for initial tests on processed beef products was Friday, and horsemeat was found in just over 1% of samples.
After 2,501 fresh tests no new products had been identified as containing more than 1% horsemeat, the FSA said. The 29 positive results were in seven products which had previously been identified and withdrawn.
'Encouraging signs'
The National Farmers Union has responded to the scandal by starting a campaign called Buy British.
Union president Peter Kendall said he wanted to "brag about the traceability" of British meat and encourage supermarkets to source their meat from the UK.
Meanwhile, Tesco chief executive Philip Clarke has sent a message to customers: "Since we became aware that a small number of Tesco processed meat products have been contaminated with horsemeat, we have been working flat out to get to the bottom of the issue.
"While tests continue, today I want to make a clear promise to customers and to tell you about the rigorous processes we have put in place to prevent this situation happening again."
He said that from Saturday if a product tested positive and was withdrawn from sale, Tesco would provide customers with a "better alternative" for the same cost.
On Friday, Sainsbury's chief executive Justin King said the discovery of horsemeat in beef products was "not the tip of the iceberg".
He told BBC Two's Newsnight programme: "I think there are some encouraging signs from today's tests that we are starting to get to the bottom of this particular issue."
No meat at Sainsbury's has so far been shown to contain horsemeat.
Catering giant Compass Group and Whitbread, one of Britain's largest hotel chains, have found horse DNA in products sold as beef, it emerged on Friday.
Horse DNA has also been found in cottage pies supplied to 47 schools in Lancashire - they have been withdrawn.
1. Comigel: Food processor
3. Spanghero: Meat processor
2. Tavola: Factory
4. Subcontractor
5. Trader
6. Abattoirs
7. Supermarkets
French food producer makes order
Comigel HQ in Metz, north-east France, asks its subsidiary, Tavola in Luxembourg, to make food products - including beef lasagne for Findus.
Factory orders meat
The Tavola factory orders the meat from Spanghero in the south of France.
Subcontractor used
Spanghero contacts a subcontractor in Cyprus to source the meat.
Subcontractor enlists trader
The Cypriot subcontractor in turn contacts a trader in the Netherlands.
Trader orders from Romania
The trader in the Netherlands places an order for meat with abattoirs in Romania.
Abattoirs send meat to France
The meat from the abattoirs travels to Spanghero in France. However, Romania rejects claims that it was responsible for wrongly describing the horsemeat from its abattoirs as beef. Horsemeat is always labelled as such, they say. The Romanian authorities claim records show orders had been for horse carcass - easily distinguishable from beef.
Meat used to make products
Spanghero sends the meat to the Comigel subsidiary's factory in Luxembourg before the finished products are supplied to Findus and retailers across Europe, including the UK. The president of Comigel says the company was unaware the meat was coming from abroad.
Horsemeat found in Ireland and UK
Tests by Irish authorities have found equine DNA in beefburgers made by firms in the Irish Republic and the UK. Traces of horsemeat have also been found in stored meat at another plant in Ireland and one in Northern Ireland. In mainland Britain, police and officials probing alleged horsemeat mislabelling have carried out raids at a slaughterhouse in West Yorkshire and a meat firm near Aberystwyth. Three men were later arrested on suspicion of offences under the Fraud Act..