UK visa appointments 'sold for cash'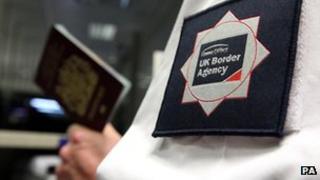 Appointments for the UK Border Agency's same-day visa service are being sold by unofficial agents, the BBC has learned.
The agents, some based abroad, sell the slots - for up to £200 - to foreign nationals unable to secure one themselves from the service.
It is claimed the online booking system crashes nightly, as people try to avoid the long delays of applying by post.
The UKBA said anyone engaged in speculative or block-booking had their access "immediately withdrawn".
'Neglecting sleep'
Foreign nationals already living and working in the UK can renew their visa by post, but they have to surrender their passport while the application is considered - making travel impossible.
A backlog of outstanding applications has seen the time taken for a decision rise from the advertised four weeks for a work visa to more than six months in some cases.
As a result, demand for the premium same-day service at one of seven UKBA offices has grown rapidly.
These appointments are released on the UKBA website each night at midnight, with cancelled appointments re-released sporadically.
But the BBC has heard from dozens of people who complain that the site simply cannot cope with demand.
Paul, an IT worker who lives in west London but is originally from New Zealand, found that every time he logged on at midnight the site crashed.
"You sit there trying to load the site until 1am... so you become very discouraged and frustrated," he said.
"I tried that every night for two weeks but I realised that it was pointless to keep trying to do this, neglecting sleep, when I have a job to go to."
Because of the delays, Paul had to cancel a trip to New Zealand to see family and friends at Christmas, having already spent £800 on flights.
'Always searching'
He was not prepared to hire anyone else to try to book him a slot but there are many people offering to do so.
A cottage industry has developed where people advertise online, promising that they will spend hours trying to grab an appointment.
The BBC has contacted a dozen such individuals and the price they charge ranges from £100 to £200.
This is on top of the cost of the premium service itself, which varies, depending on which visa is applied for, between £300 and £400 and is paid for at the appointment.
The BBC secretly recorded several people offering to sell appointments, which is in breach of UKBA rules.
One man, who is based in Turkey, said that he had booked more than 50 appointments in two months.
"I'm always searching my PC - I'm using two PCs - and when I see any cancellation I catch it," he said.
"Today, I did two appointments. I took my computer in front of my television. I earn better than a full-time job."
Document check
Part of the attraction of these unofficial agents is that they are cheaper than registered immigration lawyers or advisers, who are granted a separate allocation of premium appointments.
They charge an average of £800 on top of the premium fee, but this includes a thorough check of documents and a guarantee that money is handled legitimately.
Celia Tripp and her husband, who also live in London and are originally from New Zealand, spent a total of £3,500 to get their visas through one such service.
Because the couple have to travel for work they could not risk the potential delays of making a postal application.
"You read all the stories of people having to go 10, 11 months without their passport, and we didn't want that," said Mrs Tripp.
"I'm pregnant at the moment, and I want to go home after having the baby."
'Black hole'
Alison Harvey, general secretary of the Immigration Law Practitioners' Association, said the government should be "vigorous" in its pursuit of unofficial agents.
She said: "The first thing that needs to happen is that ordinary postal applications are turned round in a reasonable time and that you know how long it will take the agency to deal with your application."
At the moment people are "paying enormous fees for these applications which go into a black hole", she added.
A spokesperson for the UK Border Agency said: "We are aware that a small number of individuals and organisations are attempting to speculatively or block-book appointments to sell on for profit and we are changing the system to prevent this type of abuse.
"Anyone found to be misusing the appointment service in this way has their access immediately withdrawn."
You can listen to the full report on 5 live Investigates on Sunday, 17 February, at 11:00 GMT on BBC 5 live.
Listen again via the 5 live website or by downloading the 5 live Investigates podcast.