Operation Elveden: Met police officer arrested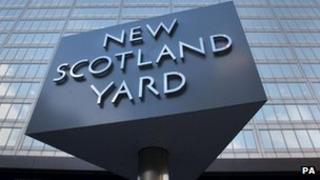 Police have arrested a 51-year-old Metropolitan police officer as part of the ongoing investigation into payments to the police by the media.
Scotland Yard said the arrest related to the suspected release of confidential information.
He was arrested at 06:00 GMT at his home in Wiltshire on suspicion of misconduct in public office.
The man, who worked in the Met's Territorial Policing command, was bailed to a date in March.
The Met said the arrest followed the release of information by News Corporation's Management and Standards Committee and relates to the leaking of confidential information.
The body was set up by the media giant in the wake of the phone-hacking scandal at its now-defunct News of the World title.
He is the 61st person arrested as part of Operation Elveden.
Of those people arrested under Operation Elveden, nine have been charged and four have been told they will face no further action.
Operation Elveden is running alongside Operation Weeting, an inquiry into alleged phone hacking, and Operation Tuleta, which is an investigation into computer hacking and other privacy breaches.