Horsemeat scandal: Government 'flat-footed' over crisis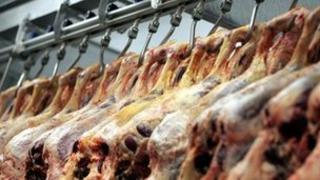 The government's response to the horsemeat scandal has been criticised as "flat-footed" by a group of MPs.
They have called for greater testing of products to reassure people there is not a threat to human health.
Meanwhile eight horses slaughtered in the UK had tested positive for bute and six may have entered the food chain in France, officials said.
However, food minister David Heath told MPs tests for traces of bute in Findus products were negative.
A total of eight horse carcasses tested positive for phenylbutazone (bute), an anti-inflammatory painkiller used to treat horses which can in rare cases by harmful to humans if ingested.
Mr Heath added that the food industry was "on-target" to provide "meaningful results" following widespread product testing on Friday.
Findus withdrew its beef lasagne from sale after tests found it to contain up to 100% horsemeat.
'Broader spectrum'
In Germany meanwhile, supermarket chain Real said it had withdrawn TiP frozen lasagne from stores after horsemeat was detected in test samples.
Other German retailers including Tengelmann and Rewe are now checking their processed beef products too.
The Commons Environment, Food and Rural Affairs committee said the public appeared to have been "cynically and systematically duped" for financial gain by parts of the food industry.
It said in a report: "It seems improbable that individuals prepared to pass horsemeat off as beef illegally are applying the high hygiene standards rightly required in the food production industry.
"We recommend that the government and FSA undertake a broader spectrum of testing for products found to have the highest levels of contamination... to provide assurances that there is no other non-bovine DNA or any other substances that could be harmful to human health present."
The MPs criticised the way the government and the Food Standards Agency (FSA) had dealt with the crisis since horsemeat was discovered in some supermarket beef products last month.
They said: "Whilst ministers are properly responsible for policy, the FSA's diminished role has led to a lack of clarity about where responsibility lies, and this has weakened the UK's ability to identify and respond to food standards concerns.
"Furthermore the current contamination crisis has caught the FSA and government flat-footed and unable to respond effectively within structures designed primarily to respond to threats to human health."
Committee chairman Anne McIntosh said the FSA has to become more "fit for purpose" and should be given statutory powers to force producers to carry out testing.
She told the Today programme: "The FSA - we were told by the farming minister David Heath - is the police force in this regard, of applying food standards.
"It is surprising to learn that they can request testing by producers to be performed, but they don't currently have the powers to require testing to be performed. That would be one change that we would welcome."
Miss McIntosh also suggested a Europe-wide change in the rules governing the use of mechanically separated meat (MSM), which from April 2012 had to be listed as a separate ingredient, seems to correlate with the start of "incorrectly labelled" food being imported into the UK.
MSM is stripped from the carcass after the prime cuts are removed using a high-pressure blasting system.
Last year, the committee called on the government to set out plans to prevent illegal meat imports.
Shadow environment secretary Mary Creagh said the report was a reflection of government cuts at the FSA.
'Unacceptable situation'
A Defra spokesman said: "We have been working urgently with food businesses, police and authorities across Europe to get to the bottom of this unacceptable situation.
1. Comigel: Food processor
3. Spanghero: Meat processor
2. Tavola: Factory
4. Subcontractor
5. Trader
6. Abattoirs
7. Supermarkets
French food producer makes order
Comigel HQ in Metz, north-east France, asks its subsidiary, Tavola in Luxembourg, to make food products - including beef lasagne for Findus.
Factory orders meat
The Tavola factory orders the meat from Spanghero in the south of France.
Subcontractor used
Spanghero contacts a subcontractor in Cyprus to source the meat.
Subcontractor enlists trader
The Cypriot subcontractor in turn contacts a trader in the Netherlands.
Trader orders from Romania
The trader in the Netherlands places an order for meat with abattoirs in Romania.
Abattoirs send meat to France
The meat from the abattoirs travels to Spanghero in France. However, Romania rejects claims that it was responsible for wrongly describing the horsemeat from its abattoirs as beef. Horsemeat is always labelled as such, they say. The Romanian authorities claim records show orders had been for horse carcass - easily distinguishable from beef.
Meat used to make products
Spanghero sends the meat to the Comigel subsidiary's factory in Luxembourg before the finished products are supplied to Findus and retailers across Europe, including the UK. The president of Comigel says the company was unaware the meat was coming from abroad.
Horsemeat found in Ireland and UK
Tests by Irish authorities have found equine DNA in beefburgers made by firms in the Irish Republic and the UK. Traces of horsemeat have also been found in stored meat at another plant in Ireland and one in Northern Ireland. In mainland Britain, police and officials probing alleged horsemeat mislabelling have carried out raids at a slaughterhouse in West Yorkshire and a meat firm near Aberystwyth. Three men were later arrested on suspicion of offences under the Fraud Act..
"Once we have established the full facts we will take whatever action is necessary so that this unacceptable situation cannot happen again."
Tim Lang, professor of food policy at City University, London, said the Food Standards Agency needed to be strengthened.
He told the BBC's Newsnight: "It's not been doing its job. We need more inspectors, they've been slashed and cut. We can't have the industry policing itself, that's what's gone wrong. The big food companies didn't actually have the control they said they had."
European ministers have agreed plans for EU-wide random DNA testing of meat products for horsemeat as well as for the equine drug "bute".
The move was welcomed by UK Environment Secretary Owen Paterson who said it was "completely intolerable" that products marked as beef actually contained horsemeat.
The FSA will announce the results of tests for bute in horses slaughtered in the UK on Thursday morning.