Ex-News of the World staff bailed in phone-hacking probe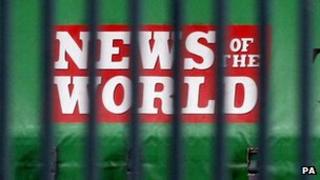 Five of six journalists from the now-defunct News of the World arrested by police investigating phone-hacking allegations have been released on bail.
The BBC understands those arrested include former assistant editor Jules Stenson, two former showbiz editors - Rav Singh and Polly Graham - and former features editor Matt Nixson.
It is understood the others detained were Rachel Richardson and Jane Atkinson, who are currently at the Sun.
Police said the case related to 2005-6.
The Metropolitan Police said all of those arrested, with the exception of a 39-year-old man, had been released on bail until a date in mid-May, pending further enquiries.
Earlier, Scotland Yard said its Operation Weeting investigation had "identified a further suspected conspiracy to intercept telephone voicemails", separate from its earlier inquiry which had seen charges laid.
The arrests were made in London and Cheshire.
The six were questioned on suspicion of conspiracy to intercept telephone communications contrary to the Criminal Law Act 1997.
The News of the World was closed down by its publisher News International in 2011 following the outrage over cases of phone hacking.
Rachel Richardson is the current editor of the Sunday Sun magazine Fabulous, while Jane Atkinson is a reporter at the Sun.
News International confirmed that two of the latest arrests related to people currently working for the Sun. A spokesman said that he did not believe the other four people were employed on News International titles.
The BBC understands that two of the other suspects now work in public relations.
In an earlier statement, the Metropolitan Police said all the suspects had worked for the News of the World.
It added: "In due course officers will be making contact with people they believe have been victims of the suspected voicemail interceptions."
Operation Weeting is being run alongside two other Scotland Yard investigations: Operation Elveden, an inquiry into allegations of illegal payments to public officials, and Operation Tuleta into computer hacking and other privacy breaches.
There have now been 32 arrests under Operation Weeting.
Fifteen people have been charged, eight of them with offences related to phone hacking and the others with conspiracy to pervert the course of justice. Four people have been told no further action is to be taken against them.