Horsemeat row: Slaughterhouse and meat firm raided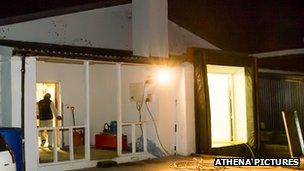 A slaughterhouse and a meat firm have been raided by police and officials probing alleged horsemeat mislabelling.
Peter Boddy Licensed Slaughterhouse, in Todmorden, West Yorkshire, and Farmbox Meats Ltd, of Llandre near Aberystwyth, have had work suspended.
Environment Secretary Owen Paterson said it was unacceptable if UK firms were defrauding the public.
Meanwhile, Waitrose withdrew its Essential British Frozen Beef Meatballs after pork was detected in two batches.
The Food Standards Agency suspended operations at both the raided premises, detained all meat found and seized paperwork, including customer lists from the two companies.
The West Yorkshire plant was thought to have supplied horse carcasses to the Aberystwyth plant, which were then allegedly sold on as beef for kebabs and burgers.
Both West Yorkshire and Dyfed-Powys police entered the premises with the FSA.
Peter Boddy said he was co-operating with the FSA officers.
"It was not a raid - they are welcome to visit whenever they want, they just wanted to see my records which I will be showing them," he said.
He confirmed he slaughters horses at his plant and that the meat is sold in the UK.
Dafydd Raw Rees of Farmbox Meats said he had a licensed red meat cutting plant and had been in operation for three years.
"I've been cutting horse meat for three and a half weeks," he said.
"The meat comes from Ireland. A consignment came in this morning as the FSA arrived."
"There is nothing we have done here which is not totally permissible."
Mr Paterson said of the latest developments: "It's totally unacceptable if any business in the UK is defrauding the public by passing off horsemeat as beef.
"I expect the full force of the law to be brought down on anyone involved in this kind of activity."
FSA director of operations Andrew Rhodes said: "I ordered an audit of all horse-producing abattoirs in the UK after this issue first arose last month, and I was shocked to uncover what appears to be a blatant misleading of consumers.
"I have suspended both plants immediately while our investigations continue."
The Welsh minister for agriculture, Alun Davies, said: "Integrity and trust are essential in the food chain. I would be appalled if these allegations are proven.
"The Welsh government is working closely with Defra (Department for Environment, Food and Rural Affairs) and the FSA to ensure this matter is dealt with swiftly and decisively."
The latest developments came as Mr Paterson held another meeting with the FSA, supermarkets and food producers to discuss the spreading horsemeat contamination scandal.
He told MPs during a Commons debate earlier that "too much is taken on trust" when it comes to verifying meat supplies.
Labour's Mary Creagh welcomed the FSA and police action.
The raids uncovered the first suspected instance of a UK abattoir passing off horsemeat for beef, Mr Paterson said.
It came after the National Beef Association (NBA) suggested the addition of the words "United Kingdom origin" to packaging to prevent "further cheating" by suppliers on the Continent.
The scandal has spread across Europe as details of the elaborate supply chain in the meat industry emerge.
French consumer safety authorities said companies from Romania, Cyprus and the Netherlands, as well as its own firms, were involved.
Mr Paterson will travel to Brussels on Wednesday to discuss the scandal with counterparts in EU countries.
At Waitrose, a spokeswoman said it had had "contradictory results" from tests on the frozen beef meatballs.
She said all had tested negative for horse DNA, but one test had indicated the presence of some pork.
"We have withdrawn two batches of these products as pork is not listed as a product in the recipe."
The products are 480g packs of 16 meatballs with a best before date of the end of June 2013 and the end of August 2013.
Related Internet Links
The BBC is not responsible for the content of external sites.