Police corruption: Gifts and second jobs to go on register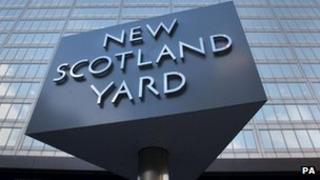 Chief constables in England and Wales will have to declare all gifts and hospitality on a public register under new anti-corruption measures.
The move is part of a package of measures aimed at rooting out police corruption and misconduct announced by Home Secretary Theresa May.
All officers will have to declare any second jobs they do.
The Independent Police Complaints Commission (IPCC) will also be expanded to investigate all serious complaints.
And there will also be a national register of officers who have been struck off in a bid to stop dismissed officers being recruited by other forces.
Sensitive allegations
IPCC chairwoman Dame Anne Owers said: "I welcome the home secretary's proposal to strengthen our ability to provide independent oversight of police complaints and, in particular, to investigate more serious and sensitive allegations within the police service."
The move came on the day officers from Operation Elveden - the Metropolitan Police investigation into alleged corrupt payments to public officials - made their 60th arrest.
Mrs May praised the police, but added: "It is vital to ensure public confidence is not damaged when individual cases of corruption happen."
Chief constables will be required to disclose pay packages, gifts and hospitality on a national register.
All officers must provide details of second jobs - one in 10 police officers has other work.
Police officers - though it is unclear which ranks will be affected - will also have to disclose contact with the media in line with Lord Justice Leveson's recommendations.
A stronger system of vetting for police officers will also be developed.
The expansion of the IPCC, which investigates complaints against the police in England and Wales, comes after a report from MPs criticised it as "woefully under-equipped and hamstrung".
In 2011, the IPCC led investigations into only 130 of the 2,100 cases referred to it. The remainder were returned to individual police forces to investigate.
'Ruthless search'
Tuesday's announcement follows a series of high-profile scandals, including the police cover-up of their role in the Hillsborough disaster, the media relations highlighted during the Leveson Inquiry, and the row over police claims that former Tory chief whip Andrew Mitchell called an officer a "pleb".
The former tactics of the Metropolitan Police's special demonstration squad in stealing the identities of dead children has also caused uproar.
Met Police commissioner Sir Bernard Hogan-Howe said: "Integrity is non-negotiable. We ought to be ruthless about searching out improper behaviour."
Police minister Damien Green said: "We've all seen the succession of scandals... clearly if we're going to restore public confidence we do need to act across the board, both in terms of prevention of corruption and dishonesty and also curing it with a better investigative system."
In the Commons, Labour's Yvette Cooper welcomed the proposals but said they could have gone further.
But the Police Federation of England and Wales said current regulation was enough in tough financial times.
The Association of Chief Police Officers' Chief Constable Mike Cunningham said it had proposed many of the changes adopted by the government.