Horsemeat scandal: 'Too trusting' on meat supplies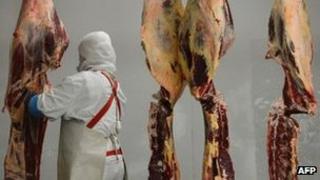 Environment Secretary Owen Paterson has said "too much is taken on trust" when it comes to verifying meat supplies.
Speaking at an MPs' debate about how horsemeat had been found in beef products, he said it was "outrageous that consumers had been misled by what appears to be deliberate fraud".
He was criticised by Labour for the time that testing of beef products was taking - up to 10 weeks.
Labour said consumers deserved to know what they were eating sooner.
Horsemeat has been detected in several branded and supermarket-own processed meat products over the past few weeks.
The crisis has spread all over Europe as details of the convoluted supply chain in the meat industry emerged.
'Paper-based system'
Mr Paterson said he had "a gut feeling and a very clear belief... that too much is taken on trust within the current system", adding that "we do need to do more testing".
He said: "At the moment it is very much a paper-based system, too much taken on trust."
Labour have urged the government to speed up testing in order to restore consumer confidence, and condemned the testing regime already announced by the government.
MPs rejected a motion calling for the government to ensure that the police and fraud specialists investigate criminal networks involved in horsemeat adulteration and speed up the FSA tests to restore consumer confidence.
Shadow environment secretary Mary Creagh said: "You cannot seriously expect people to wait 10 weeks for the results.
"Do you think surveying just 224 products across the country rises to the challenge of this scandal when you have asked the supermarkets to test thousands of their products by Friday?"
She went on: "We all want the British public to have confidence the food they are buying in the shops from our producers is correctly labelled, legal and safe."
She called for a tightening of microchipping and the registering with passports of horses destined for slaughter for food production in the UK. She repeated statistics showing that 6% of horses killed in Britain later tested positive for the drug bute, which is not cleared for human consumption.
Mr Paterson briefed the cabinet on the situation earlier and has spoken to various EU counterparts and is due to meet them in Brussels on Wednesday.
Later on Tuesday he will meet supermarkets, the Institute of Grocery Distributors and the Food Standards Agency (FSA) to discuss the issue further.
The Hospital Caterers Association (HCA) said it was "confident hospital meats had not been affected... with regard to horsemeat contamination", adding: "Hospital caterers use highly responsible and trusted suppliers who have served the NHS for many years.
"In light of the current concerns, these suppliers have already taken immediate action to provide full assurances about their meat products."
'Suspicion not enough'
Police said they were waiting for any evidence of criminal activity from the FSA before an investigation could begin, as suspicion alone was not enough.
Metropolitan Police Commissioner Sir Bernard Hogan-Howe said: "People have got suspicions, I think the minister said there are two broad options, which is either negligence or criminal conspiracy.
"They are the options, but of course we can't investigate to see which of the options is true, we just need some information to help us."
He also said the location of the crime - abroad or in the UK - would determine who investigated.
In the Northern Ireland Assembly two committees have been told that contaminated meat points to fraudulent activity and to Europe.
However, Gerry McCurdy, of the Food Standards Agency, told the health and agriculture committees that he could not be more specific.
A consignment of meat at Newry firm Freeza Meats was last week found to contain about 80% horsemeat.
Meanwhile, a former senior scientist at the Food Standards Agency said an EU decision to reclassify a type of mincemeat widely used in the UK had played a significant part in creating the horsemeat crisis.
Dr Mark Woolfe said the decision to ban desinewed meat had prompted producers to go outside the UK to source supplies of cheap mince, but the FSA denied this was to blame.
Anti-fraud inspections
On Monday, Tesco became the latest firm to announce it was dropping French food supplier Comigel.
It removed Tesco Everyday Value spaghetti bolognese when it found out it had come from the same factory as Findus beef lasagne, also at the centre of the horsemeat controversy.
The bolognese was also tested for the veterinary drug phenylbutazone as animals treated with "bute". The results were clear.
French anti-fraud inspectors have been at the Comigel headquarters in Metz, north-east France.
Investigators were also at the offices of importer Spanghero, in the south of France, which brought the meat to France from Romania, via several other countries and agents.