Horsemeat scandal: Beef products 'pose no health risk'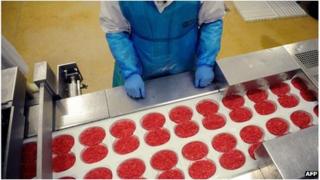 All processed beef products are safe to eat but consumers must be prepared for more unwelcome news in the ongoing horsemeat scandal, the government says.
Environment Secretary Owen Paterson said "nothing seen so far presented a health risk".
Mr Paterson, who is to update MPs later on the latest developments, said it looked as if an "extensive" criminal conspiracy may have taken place.
Legal action is set to begin in continental Europe on Monday, he added.
Mr Paterson has already said a moratorium on EU meat imports, which has been called for, is not allowed under EU rules.
In France, the government has summoned meat industry representatives to talks and some ready meals were withdrawn after horsemeat was found in some beef-labelled foods sold in Europe.
Mr Paterson said reports from France suggested the problem had been pinned down to two abattoirs in Romania.
'Continue buying'
The controversy surrounding contamination of meat products has spread all over Europe, affecting countries including Sweden, Poland and the Republic of Ireland.
Last month, Irish food inspectors announced they had found horsemeat in some burgers stocked by a number of UK supermarket chains, including Tesco, Iceland and Lidl.
Mr Paterson told the BBC a factory in Luxembourg, which has been linked to the French cases, had to issue warnings to 16 different countries. He said he did not know how widespread the problem was but "we have to be prepared for more unwelcome news".
Tests were continuing and it was the responsibility of the retailers to "convince their consumers of the validity and quality of their products", he said.
Mr Paterson added that the Food Standards Agency's (FSA) advice was to continue buying and eating processed beef products, but if any evidence of a serious threat to health emerged "we will act very swiftly".
The FSA has ordered food businesses to conduct authenticity tests on all beef products for significant levels of horsemeat and the deadline for the first set of results is Friday 15 February.
Last week Findus UK took its frozen beef lasagne, made by the Comigel food processing company in France, off the shelves after some were found to have up to 100% horsemeat in them.
Findus UK said the only product on sale in the UK using ingredients from the French supplier had been its beef lasagne and all other beef products on sale in the UK had been DNA-tested and cleared.
The FSA has asked Findus to test their contaminated beef lasagne for the veterinary drug phenylbutazone as animals treated with "bute" are not allowed to enter the food chain. The results are expected in the next few days.
The Chief Medical Officer for England, Dame Sally Davies, said: "It's understandable that people will be concerned, but it is important to emphasise that, even if bute is found to be present at low levels, there is a very low risk indeed that it would cause any harm to health."
High Street butchers
Six French supermarket chains - Carrefour, Monoprix, Auchan, Casino, Cora, and Picard - have also withdrawn ready-meals from Findus and Comigel.
Findus France has said it will take action in the French courts, believing itself to be the victim of fraud.
But the company that supplied the meat, Spanghero - based in southern France - has also said it was the victim of fraud and intends to sue its Romanian supplier.
Romania's president, Traian Basescu, said if false labelling had been carried out with the intention of making money that would discredit the country for a long time and raise the risk of export restrictions.
Constantin Savu, a representative of Romania's National Food Safety Authority, said more than 25 abattoirs there were authorised not only to butcher horsemeat but also to export it within the EU.
Meanwhile, High Street butchers in the UK say they are experiencing a spike in trade, some by as much as 30%.
Brindon Addy, chairman of the Q Guild representing 130 butchers across England, Scotland and Wales, said: "It is obviously great news for those butchers who have found it difficult to compete with the big supermarkets in the past.
"People slip into the convenience of supermarket shopping, but whenever there is a scare - be it horse meat or BSE- they always come back."