BBC Radio 3 announcer Patricia Hughes dies, aged 90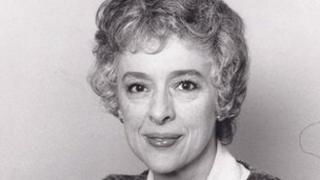 Former BBC radio announcer Patricia Hughes - one of the most distinctive BBC voices over several decades - has died at the age of 90.
Famed for her elegant tones, Hughes started at the BBC as a secretary in 1944, before appearing on what was then the "overseas service".
She later appeared on the Light Programme, the Home Service and the Third Programme, now known as Radio 3.
In 1969, following a career break, she returned to Radio 3 until 1983.
For many years, she was the only female announcer on Radio 3. As well as introducing chamber music concerts, her duties also included reading news stories.
'Appalling voice test'
In later life, she continued to use her vocal skills, recording a number of audiobooks, including an autobiography of Margaret Thatcher.
She died on Friday at a nursing home in Winchester, Hampshire.
She leaves a daughter, Emma, and two granddaughters.
Michael Berkeley, presenter of Private Passions on Radio 3, said she had been an "utterly idiosyncratic voice of Radio 3 for many years".
Radio 3 controller Roger Wright said he was "saddened" to hear of the death of "one of BBC Radio 3's best loved voices".
He added: ""Her contribution to radio in general and the station in particular was significant; not least her memorable introductions to lunchtime concerts. She was much-loved by our listeners and her death marks the passing of an era."
She was one of the first women to read the news on BBC radio - four years before Sheila Tracy famously became the first woman newsreader on Radio 4.
Hughes said once: "Reading the news isn't something that it is absolutely necessary for men to do... you don't have to have a deep voice to sound authoritative."
She later later recalled her first audition: "I did an appalling voice test, it was full of German names, and I knew no German but I spluttered away. I could hear them giggling at me. But I got the job. When I asked them why...they said 'You were the only one who kept going'."
'Reluctant departure'
Her departure from the BBC in 1983 was said to be "reluctant" - she had reached the statutory retirement age - and she was rewarded with a special commendation at the inaugural Sony Awards that year.
Patricia Hughes had many outside interests, including gardening, animals and the piano and she also wrote a number of light music pieces that the record producer Joe Meek helped her to have published - including one, It Happened in a Dream, which reportedly still earns royalties today.
In Simon Elmes' book, Hello Again: Nine Decades of Radio Voices, Hughes described how she used to spend nights in the radio announcers' dormitory - in a building which has since been converted into the Langham Hotel - and recalled one particularly memorable broadcast.
She told the author: "By the mercy of God I'd remembered to take a diaphanous negligee to put over my nightie, which I didn't normally do.
"I rushed down the stairs, tore across Portland Place into Broadcasting House and luckily with about three or four minutes to spare, got into the studio, very breathless. I read the news at nine. Then, at 10, I realised with appalling clarity that I was still in my nightdress, hair in all directions looking like nothing on earth."