Newspaper review: EU budget deal discussed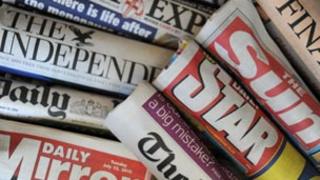 The day's newspapers discuss the European Union budget deal, which they have largely welcomed.
The Independent describes it as a good night's work in Brussels. What looked so far out of reach in December became possible after just 24 hours of talks, it says.
The Sun says David Cameron has gone from an isolated figure to Europe's reforming champ.
As triumphs go - the Daily Telegraph says - this one is looking pretty triumphant.
For the Daily Mirror, the age of expanding EU budgets is over.
The Daily Mail says it would have been indefensible for Brussels to carry on as if the financial crisis had never happened.
The Guardian sees the outcome as "very significant indeed" for Britain.
Abuse claims
The Daily Telegraph's main story is an interview with the Health Secretary, Jeremy Hunt.
He tells the paper it is "absolutely disgraceful" that no doctors, nurses or managers have been held to account over the deaths of up to 1,200 patients at Mid-Staffordshire NHS Trust.
Mr Hunt also questions the failure of professional bodies to uncover abuse on such a wide scale.
The Times and the Mail lead with the conclusion of the sex abuse trial of a leading choirmaster, Michael Brewer - and the revelation that his victim killed herself within days of giving evidence.
The Times says the tragic case of Frances Andrade - a former pupil - refocuses attention on the ordeal faced by inexperienced witnesses.
It supports a call for MPs to investigate whether new guidance is needed to ensure that vulnerable victims, unused to the brute rigour of the witness box, are offered proper support.
Playground closure
One of Adolf Hitler's food tasters has finally revealed her wartime role - at the age of 95.
For two-and-a-half years, Margot Woelk - who lives in Berlin - tasted everything Hitler ate.
She tells the Times the food was sent to his headquarters only after it had been tasted by 15 people.
Finally, the Mail and the Sun report that a children's playground has been temporarily closed - after complaints that it is too brightly coloured.
The Sun says it was a big draw for families on a new housing estate in Cirencester in Gloucestershire.
But, according to the Mail, the developers sealed it off after some residents said it was not in keeping with the traditional stone homes of the Cotswolds.