Asylum seeker alleges assault during Heathrow deportation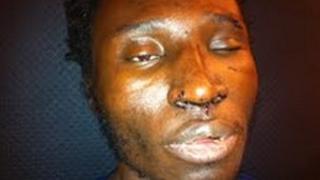 An asylum seeker alleges he was assaulted by private security staff on a plane at Heathrow Airport, the BBC has learned.
Marius Betondi, who is from Cameroon, claimed he suffered serious injuries to his eye and face during an attempt to remove him from Britain last month.
Scotland Yard and the UK Border Agency have both launched investigations.
Immigration sources denied the assault allegations, saying the injuries were "self-inflicted".
Concerns have been raised in the past about the force used during the removal of immigrants. In 2010, a man being deported died.
Mr Betondi, who is 27, arrived in Britain in March 2012.
Handcuffed
He applied for asylum on the grounds that he faced persecution in Cameroon because of his sexuality - he says he has been gay since the age of 16.
But the UKBA did not believe him and rejected his request.
Since then, according to the Cameroonian, there have been four failed attempts to remove him, the latest of which took place on 18 January.
Mr Betondi said he was handcuffed and lifted on to a plane by five security guards.
He claimed to be in "severe pain" and started crying.
"When I started screaming out they started punching me, punching my face," he said.
Mr Betondi claimed his nose and face started bleeding and at one point he thought he was going to suffocate as staff allegedly forced him under a seat on the aircraft.
"I did not resist them at any point because they were powerful and I was handcuffed. I was powerless and couldn't do anything," he told the BBC.
But immigration sources said Mr Betondi had caused the injuries himself.
They said he had been placed in handcuffs because of his previous behaviour and became "highly disruptive" while boarding the flight and when on board.
'Spat blood'
The sources said he had "headbutted" the seat in front of him and spat blood at escorts and passengers. The removal was aborted.
Photographs of Mr Betondi's injuries appear to show bruising to his face, nose and around an eye, which also seems to be bloodshot.
Mr Betondi claimed he was told by doctors at Northwick Park Hospital in north-west London he had fractured his nose and some of the bones around his eye and urgently needed reconstructive surgery.
Friends said he was suffering from short-term memory loss and blurred vision.
A doctor instructed by Medical Justice, which campaigns for better healthcare provision for immigration detainees, examined Mr Betondi.
Dr Charmian Goldwyn said the "number, pattern and distribution of injuries is in my opinion typical of their attribution to deliberate blows to the face caused during a recent assault".
Gareth Mitchell, a solicitor who specialises in cases involving immigration detainees, said legal action was a possibility. He said he would be pressing for a "full and independent investigation".
Appeal to passengers
"Whilst our investigations are ongoing and we are still appealing for passengers on this flight who saw this incident to come forward, Mr Betondi appears to have sustained very serious injuries during this removal attempt," Mr Mitchell said.
"The extent of these injuries raises once again serious questions about the level of force being used by the Home Office's overseas escort contractors."
A UKBA spokesman said : "Where we and the courts find that an individual has no right to be in the UK we expect them to leave. Where they refuse we will enforce their removal."
The agency said detainee complaints were taken "very seriously" and would be thoroughly investigated.
Escort staff on flights out of the UK work for a company called Tascor, which describes itself as the "largest private sector provider of secure immigration detainee escorting".
Tascor used to be known as Reliance Secure Task Management, which took over responsibility for removals from G4S in 2011.
'Professional service'
Tascor declined to discuss the case but said: "Although we can't comment on individuals, Tascor focuses on delivering a professional service to its clients while ensuring its methods of operations are compliant with the relevant statutory regulations, as well as agreed client guidelines and industry best practice.
"Any complaints received about employees are investigated thoroughly and are subject to an independent oversight and, in serious cases, investigation conducted by the UK Border Agency. If employees have not met our standards, we will undertake appropriate disciplinary procedures."
Scotland Yard said inquiries were continuing and there had been no arrests so far.
In March 2010, an independent review, commissioned by the Home Office, criticised the way immigration, escort and security staff used handcuffs to restrain asylum seekers and said private sector security firms had "inadequately" managed the use of force.
Seven months later, Jimmy Mubenga died after collapsing while being restrained by guards on a flight preparing to leave Heathrow for Angola.
Last year the Home Affairs Committee also raised concerns about the immigration removal process, saying private security guards had used inappropriate force.