Operation Elveden: Ex-police officer charged over Sun information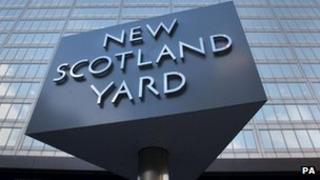 A former Surrey police officer has been charged with two offences of misconduct in public office over allegations he sold information to the Sun newspaper, Scotland Yard has said.
Alan Tierney, 40, a former constable, is alleged to have provided information twice in 2009 and been paid £1,750.
The separate cases involved members of ex-England footballer John Terry's family, and Rolling Stone Ronnie Wood.
Mr Tierney was charged as part of the Met Police's Operation Elveden.
Elveden is the Metropolitan Police's inquiry into allegations of the illegal passing on of information by public officials to journalists.
'Terms of employment'
Mr Tierney of Hayling Island, Hampshire, will appear at Westminster Magistrates' Court on 26 February.
Alison Levitt, QC, principal legal advisor to the Director of Public Prosecutions, said: "We have concluded, following a careful review of the evidence, that Alan Tierney, a former police constable with Surrey Police, should be charged with two offences of committing misconduct in public office.
"It is alleged that in 2009 Mr Tierney provided information to the Sun newspaper on two occasions in breach of the terms of his employment with Surrey Police and was paid £1,750.
"The first charge relates to an allegation that Mr Tierney provided details to the newspaper about a shoplifting incident in which he was the arresting officer.
"The second charge relates to an occasion on which Mr Tierney took a statement from a witness to a domestic violence incident. It is alleged that Mr Tierney passed the witness' name, address and details of the incident to the newspaper.
"Both of these incidents were linked to high-profile people."
File of evidence
One of the cases related to the arrest of Mr Terry's mother, Sue Terry, and mother-in-law Sue Poole on suspicion of shoplifting in March 2009.
The other concerned the arrest of Mr Wood, who was questioned in December 2009 over allegations that he had assaulted his Russian girlfriend Ekaterina Ivanova.
All three of those investigated accepted police cautions.
The Press Complaints Commission later rejected a privacy claim from Mr Terry.
The CPS said Mr Tierney would be charged after receiving a file of evidence from the Met.
The file also related to a 25-year-old man arrested on 17 February last year on suspicion of conspiracy to corrupt a public official and money laundering.
The CPS said there was insufficient evidence and this person would face no further action.
Operation Elveden is being run alongside two other police investigations.
Operation Weeting is an inquiry into alleged phone hacking, while Operation Tuleta is an investigation into computer hacking and other privacy breaches.