Stores withdraw bolognese and lasagne after French supplier issues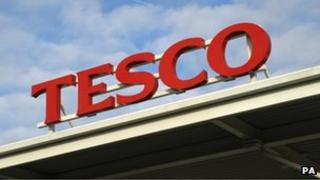 Two supermarket chains and a frozen food group have withdrawn some beef products from sale after concerns were raised at their French supplier.
Comigel alerted Findus UK and Aldi that their products "do not conform to specification".
They advised them to remove Findus Beef Lasagne and Aldi's Today's Special Frozen Beef Lasagne and Today's Special Frozen Spaghetti Bolognese.
Tesco also decided to withdraw Everyday Value spaghetti bolognese.
The Tesco product was produced at the same Comigel site, but there was no evidence of contamination, the supermarket said.
The latest withdrawals come as the horsemeat contamination controversy spreads.
'Not a food safety issue'
Findus UK said its supplier had asked it to withdraw the product because of a "labelling issue".
The Findus Beef Lasagne was sold in sizes of 320g, 360g and 500g.
"We would like to reassure everybody that this is not a food safety issue," it said.
"The supplier that produces Findus Beef Lasagne has informed us that they have a labelling issue and have asked us to withdraw the affected product."
It said beef lasagne was the only product affected and it was sourced externally rather than manufactured by Findus.
"We are working closely with retailers and the Food Standards Agency and trading standards authorities. We are also currently conducting a full reassessment of our supplier's sourcing."
Tesco said it was withdrawing its products as a precaution.
In a statement it said: "Following the withdrawal of Findus beef lasagne, which is produced by Comigel, we have decided to withdraw our frozen Everyday Value Spaghetti Bolognese, which is produced at the same site, as a precautionary measure.
"There is no evidence that our product has been contaminated and the meat used in the Findus product is not used in our product. However, we have decided to withdraw the product pending the results of our own tests."
Aldi followed suit later on Wednesday, saying: "Following an alert from our French supplier, Comigel, Aldi immediately withdrew its Today's Special Frozen Beef Lasagne and Today's Special Frozen Spaghetti Bolognese from stores as a precautionary measure.
"Comigel has flagged concerns that the products do not conform to specification. They have been withdrawn immediately so that Aldi can conduct its own investigations into the factory concerned. These investigations are continuing."
Asda burgers
Meanwhile, supermarket chain Asda has withdrawn four frozen burger products supplied by Northern Ireland company Freeza Meats as a precaution.
A batch of meat containing 80% horse DNA was discovered in a cold store at Freeza Meats in Newry.
The Newry company said it was storing the meat for a firm based in the Irish Republic, after declining to buy it.
Freeza Meat said none of the meat had got into the food chain.
The controversy arose in mid-January when Irish food inspectors announced they had found horsemeat in some burgers stocked by a number of UK supermarket chains including Tesco, Iceland and Lidl.
On Wednesday the Food Standards Agency said it would co-ordinate a UK-wide survey of beef products to test for the possible presence of horse or pig DNA. There will be "additional emphasis on brands at the lower end of the market, particularly for burger-type products", it said.
Twenty-eight local authorities across the UK will take a total of 224 samples, and results are due to be published in April.
The survey "aims to identify and understand factors that may lead to the presence of meat species that are not labelled as an ingredient, so that this can be explained, eliminated or correctly labelled."