Falkland Islanders 'must decide own future', says Hague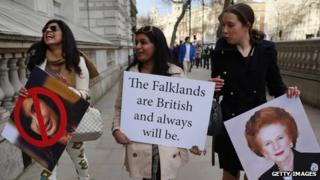 It must be up to the people of the Falkland Islands to "decide their own future", William Hague has said after meeting islands' representatives.
The foreign secretary said he welcomed the results of the islanders' referendum on sovereignty in March.
He earlier met Jan Cheek and Dick Sawle, of the islands' legislative assembly, at the Foreign Office.
He added it was a "shame" Argentine foreign minister Hector Timerman had declined to attend that meeting.
'Settlers'
Mrs Cheek and Mr Sawle said they were "disappointed but hardly surprised" at his absence.
"Mr Timerman dismisses us as 'settlers'. Well, we are settlers. Like countries across the continent of the Americas, we came into existence through waves of settlement from Europe and elsewhere," said Mrs Cheek.
"Indeed, we Falkland Islanders settled in our home long before many parts of Argentina were settled by the Argentines," she continued.
"Mr Timerman knows full well that it is simply untrue to say that we have fewer political rights than anyone else, or that the United Nations has said that self-determination does not apply to the Falklands, or that UN resolutions preclude Argentina from sitting down with us.
"Repeating these misrepresentations doesn't make them any truer, however inconvenient for Argentina."
Buenos Aires was "deeply worried about our referendum", she said, "which is why they spend so much time dismissing it".
"Talk of the Falklands being Argentine in 20 years makes for good headlines - but smacks of desperation.
"We are a thriving community, with a growing international voice. We want good, neighbourly, relations with Argentina, we are willing to talk with them and we cannot be ignored. Self-determination is a universal right."
'Fanatics'
Speaking to UK newspapers this week, Mr Timerman suggested that the islands would be under Argentine control within 20 years.
He accused Britain of behaving like "fanatics" over the Falklands, saying: "I think they are using the people living in the islands for political [reasons] and to have access to oil and natural resources which belong to the Argentine people."
He declined Mr Hague's invitation to talks on the issue owing to the presence of Falklands representatives, and said: "According to the United Nations, there are only two parties to the conflict - the United Kingdom and the Republic of Argentina."
He said he had travelled to the UK for a gathering of representatives from European Union countries that are in favour of dialogue.
"In an act of courtesy I offered a meeting to Foreign Secretary William Hague so we could discuss bilateral topics and multilateral issues like the UN Security Council," he said.
"The attempt to impose a condition and an ultimatum made me reject the possibility of a meeting.
"With that attitude, he prevented us from meeting to discuss all the issues relevant to the bilateral relationship."
Mr Timerman invited the Foreign Secretary to go to Buenos Aires for a meeting "without ultimatums or conditions, as two friendly countries which are simply seeking dialogue".
'Incontestable way'
Speaking following the meeting on Wednesday, Mr Hague said: "Through nine generations the people of the Falklands have worked tirelessly to establish their position in the world and their voice deserves to be heard. With this in mind, I welcome their forthcoming referendum in March.
"This will be a chance for the people of the Falkland Islands to express their views about how they wish to be governed, and in a democratic and incontestable way without other people speaking for them."
He added: "It is of course a shame that the Argentine Foreign Minister, Hector Timerman, was unwilling to join us for a conversation about the Falkland Islands.
"As I have said before there is no way such a conversation could have taken place without members of the Falkland Islands government being present, especially given the current Argentine government's behaviour towards the Islanders.
"It is, and must always be, for them to decide their own future."