Europe-wide raids target people-smuggling network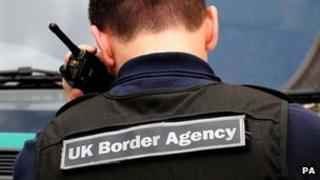 Authorities believe they have disrupted a major people-smuggling network after carrying out dozens of co-ordinated raids in England, France and Belgium.
UK Border Agency officers raided 35 addresses in England on Wednesday, while about 40 raids were carried out in France and Belgium.
More than 150 UKBA officers joined the crackdown on gangs trafficking illegal immigrants in the back of lorries.
It is understood many of the immigrants are from Iraq, Iran and Afghanistan.
UKBA's Chris Foster said: "We believe this to be one of the biggest operations of its kind ever undertaken in the UK, involving officers the length and breadth of the country."
He added: "We believe we have successfully disrupted a significant organised network suspected of being involved in a systematic attempt to evade the UK's immigration controls."
Officers made 20 arrests, and another six in relation to other suspected offences including immigration breaches.
The raids took place in London, Hampshire, Peterborough, Birmingham, Coventry, Smethwick, Leamington Spa, and Stoke-on-Trent.
Warrants were also executed in Manchester, Sheffield and Lancashire.
Immigration minister Mark Harper said: "The organised criminal gangs involved in people smuggling prey on the desperation of others in order to line their own pockets.
"They are also a major factor involved in illegal immigration to the UK."