Gay marriage vote dominates papers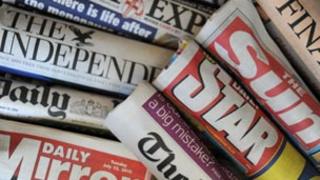 The vote by MPs in support of same-sex marriage in England and Wales is widely reported in Wednesday's papers.
It is described as "historic" by the Daily Mirror, the Guardian, the Independent and the Times.
But the big topic of the day is the vote's impact on David Cameron.
The Sun says the prime minister is "defiant", but the Daily Mail asks whether he can heal the self-inflicted wounds. And the Daily Star says Mr Cameron has been weakened.
The news that a senior RBS banker, John Hourican, is to resign over the rigging of the Libor rate prompts the Times to describe him as a "fall guy".
It says his £700,000 pay-off is likely to prompt criticism.
His friends tell the Daily Telegraph he is leaving with his head held high.
The Financial Times says the Business Secretary, Vince Cable, will now revive his suggestion that RBS should be returned to the private sector by distributing free shares to the public.
The Times says the withdrawal of Centrica from a project to build the next generation of nuclear power stations in the UK has left "a serious hole" in the government's energy plans.
In an editorial, it says the case for natural gas has never been stronger.
The Daily Telegraph says Wednesday's report on the Mid Staffordshire hospital scandal will recommend a change in the law.
It says the shift will mean NHS staff are obliged to report poor care.
Following the news that Britain's most successful swimmer, Rebecca Adlington, has retired at the ripe old age of 23, the Guardian says her openness and commitment made her a household name.
Many papers pick up on the announcement that cook Delia Smith will no longer make television programmes.
The Daily Express says she struck a national chord.
And the Independent notes that her new chosen field of internet tutorials is already a booming sector.