Vicky Pryce 'wanted revenge' over Chris Huhne's affair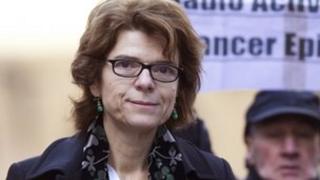 Chris Huhne's former wife passed the story about his speeding offence to the press in revenge for his extra-marital affair, Southwark Crown Court heard.
Prosecutors say Vicky Pryce, 60, took speeding points for Huhne a decade ago.
The jury was read an email from 2011 - after she found out about Huhne's affair - in which Ms Pryce, of Clapham, London, said she wanted to "nail him".
She denies perverting the course of justice. Huhne admitted the same charge on Monday and has resigned as an MP.
'Play ball'
Ex-Liberal Democrat cabinet minister Huhne and Ms Pryce, an economist, were charged last year over an incident in March 2003 when Huhne's car was caught by a speed camera on the motorway between Stansted Airport in Essex and London.
It is alleged that between 12 March and 21 May 2003, Ms Pryce, who was still married to Huhne, falsely informed police that she was the driver of the car so he could avoid prosecution.
Andrew Edis QC, opening the prosecution case against Ms Pryce, said Huhne could not have passed his points to Ms Pryce on his own - they would have worked together. He said both people had to "play ball".
Mr Edis said Ms Pryce would now use a special legal defence available only to wives, saying that she was coerced by him into taking the points.
He said the jury would have to decide whether Ms Pryce was "weak-minded" and forced into accepting the points by Huhne or was a "strong-minded and manipulative" woman acting of her own free will.
"Focus not on whether she was persuaded but whether she was in a situation where she had a choice," he said.
Mr Edis told the court the speeding offence only came to light in 2011 after Huhne told Ms Pryce he was having an affair.
"She was not only distressed but extremely angry and wanted some revenge and her revenge was to pass the story about the 2003 crime to the newspapers so that it would be published in the hope that would destroy her husband's career," Mr Edis said.
'Manipulative people'
The jury of eight women and four men heard details of email exchanges between Sunday Times political editor Isabel Oakeshott and Ms Pryce from 1 March 2011 as they discussed how to publicise the crime.
Ms Oakeshott told her a "major two-part article" would inflict "maximum and perhaps fatal damage on Chris if you are prepared to be open", Mr Edis told the court.
Mr Edis said Ms Oakeshott told her it would fulfil her dual objective - "bringing Chris down without damaging your own reputation in the process".
Ms Pryce responded in email: "I definitely want to nail him. More than ever, I would love to do it soon."
Ms Oakeshott later replied: "The bottom line is that this story will bring Chris down if you are prepared to go on the record, with the minor risk this carries.
"I think you can make yourself out to be very much the honourable one, saying it has very much been on your conscience ever since, saying you knew it was wrong but you were bullied into it."
Mr Edis went on: "Mr Huhne was charged, he did resign, yesterday he pleaded guilty, he's not a cabinet minister any more. The plan worked."
'Ridiculous stories'
The court also heard Ms Pryce got a recording device from the newspaper to try to tape Huhne over the phone admitting to the offence. The jury was played recordings of four phone calls made in April 2011.
Ms Pryce repeatedly asks Huhne to confirm that she received the points, but he denies it, advising her not to speak to journalists.
In one call, he said: "Can I suggest, if you want to stop journalists door-stepping you, you stop telling ridiculous stories to the press."
In another, he said: "I'm going to tell them (the media) the truth which is of course that I absolutely deny that you ever took the points for me."
At one point, Ms Pryce says to him: "You want me to just lie to people basically, like you have done continuously?"
Mr Edis said: "You might come to the conclusion that these telephone calls are two manipulative people trying unsuccessfully to manipulate each other."
He also told the court a speeding offence "might not seem like a big deal... but ultimately it does matter". The system, he said, would not work if "everyone fiddles it".
The trial has been adjourned until Thursday.