Food Standards Agency calls contamination meeting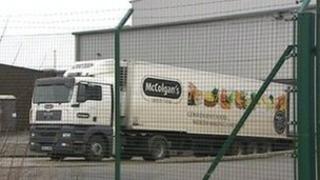 The Food Standards Agency will meet suppliers and retailers later to discuss how to prevent contaminated food entering the supply chain.
It follows recent cases of pork being found in halal products for prisoners and horsemeat in supermarket burgers.
The firm which supplied contaminated halal food has been named as Northern Ireland-based McColgan Quality Foods.
The Commons environment committee chairman told the BBC the recent cases could be just the tip of the iceberg.
Conservative MP Anne McIntosh has also questioned whether the Food Standards Agency (FSA) is fit for purpose.
"The evidence we've heard, it doesn't really sound as if the FSA has got a grip on this whole scandal," she told BBC Radio 5 live.
The horsemeat in burgers had been discovered by the authorities in the Irish Republic, while the FSA had not found one incident of cross-contamination, she added.
The FSA is investigating whether the contaminated products were distributed more widely across the UK.
Steve Wearne, a director at the FSA, said it had called an urgent meeting "of a range of suppliers" on Monday where it would "stress again the responsibility of all food businesses to ensure the food that they sell contains what it says on the label".
The FSA tested almost 80,000 samples of food last year, he told the BBC.
"We focus on those risks that can make people ill or worse. So we look for arsenic, listeria and other things that can make you ill," he said.
Frozen burgers
On Sunday, McColgan Quality Foods Limited, based in County Tyrone, was named as the company that supplied halal food found to contain traces of pork DNA to prisons.
Food distributor 3663 said McColgan's was the source of "the very small number of halal savoury beef pastry products" and all halal products from this firm had been withdrawn.
McColgan's said it was co-operating with the FSA.
Under Islamic law, Muslims are required to eat halal food - and eating pork is strictly forbidden.
Halal meat is defined as meat slaughtered by hand and blessed by the person doing the killing, however some Muslims believe mechanised forms of slaughter are also now acceptable.
Tests were carried out by food firm 3663 after McColgan's name appeared on a report by the Food Safety Authority of Ireland (FSAI) following an investigation which discovered horsemeat in some frozen burgers.
Last month, horsemeat was discovered in beef burgers, which were on sale in several major supermarket chains in the UK and Ireland.
The meat was processed at the Silvercrest plant in County Monaghan and the Irish authorities have said the horse offcuts were contained in a frozen block of filler product imported from Poland. The Polish supplier was used by the firm for about 12 months.
Independent food safety expert Dr Slim Dinsdale told the BBC the British food industry was one of the best regulated, despite these problems.