Justin Welby: Ex-oil executive facing Church of England's 'impossible job'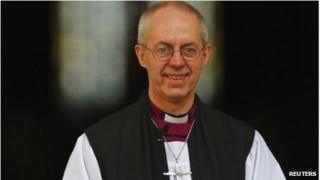 The Bishop of Durham, the Right Reverend Justin Welby, will walk into St Paul's Cathedral this morning as one of the Church's newest bishops and emerge as the spiritual leader of some 80 million Anglicans across the world.
But even this transformation - confirmed at the moment the Archbishop of York, the Most Reverend John Sentamu, reads and signs a "Final Decree" - barely begins to tell the story of the burden the new Archbishop of Canterbury is taking up.
For the new archbishop will inherit a Church whose numbers have declined dramatically in recent decades, and which is struggling to promote a Christian message to an increasingly sceptical and secular society.
It will be seen as his job to unite a Church deeply riven by disputes about women bishops, and, more dangerously, sexuality.
He will assume the leadership of the divided worldwide Anglican Communion - but one which is disputed by many in the autonomous Anglican churches that make it up.
The new archbishop will be garlanded with new titles - "Most Reverend", "Metropolitan", "Primate", even "By Divine Providence" - but he will be no pope, with autocratic power to command obedience.
Undoubted ability
Instead, his will be a post where responsibility far exceeds the power to fulfil it.
Just to add to the pressure on him a huge weight of expectation has already settled on the new archbishop's shoulders.
So who is the man who will emerge from the Great West Door of St Paul's Cathedral today as the 105th Archbishop of Canterbury?
For a start, he's relatively inexperienced, ordained a priest only 20 years ago, and a bishop for barely 18 months.
The Rt Rev Justin Welby, 57, is a married man with five children.
He went to school at Eton, and university in Cambridge.
He rose to the top of the oil industry - ending up as treasurer of Enterprise Oil - and giving up a six-figure salary to train as a priest.
He was a vicar in Warwickshire, a Canon of Coventry Cathedral, and the Dean of Liverpool, before being appointed as bishop of Durham.
He's described himself as the "thickest bishop in the Church", and the prospect of taking up residence at Lambeth Palace as "extremely scary", but those with whom he's worked have no doubt about his ability.
John Walmsley, the bishop's boss at Enterprise Oil, describes a family man, whose faith could be seen in his actions rather than what he said, a person perhaps uniquely equipped to meet the challenges faced by the Church's leader.
"He is very determined, he doesn't give up easily. He is curiously relaxed in long-term negotiations... he keeps tension out and keeps the game moving. He can make people feel appreciated. I think that combination of a relaxed approach and an absolute iron will to get things done is a powerful one.
"He has an exceptional ability to work quickly to analyse a situation and come up with solutions."
It is those practical skills, and what he perceives to be a willingness to speak clearly and assertively, that appeal to a former Lambeth Palace insider, the Reverend George Pitcher.
"He's a man who knows his own mind, he's decisive and he has that corporate background where things need to be done today - or a decision made today so that action can be taken tomorrow to put things right. I think that's the principal talent he can bring to bear."
Bleak picture
Mr Pitcher believes the way the Church is run contributes hugely to its problems.
He paints a bleak picture of the waste and sclerosis he claims is hampering its real work - serving the needy and promoting Christianity in parishes in every part of England.
"There are layers of stultifying management... there is duplication of roles, there are people working in silos, without co-operating with other people. It's not like an efficient company in its executive structure, but it's like a medieval court, with clusters and different power groups fighting each other."
Mr Pitcher - who served for a brief and, he acknowledges, frustrating spell as public affairs secretary to the former Archbishop of Canterbury, Lord Williams, saves his most severe criticism for Lambeth Palace itself.
He claims that "like other palaces", Lambeth attracts "courtiers" whose main priority is to maintain a "still millpond" with "a minimum of activity".
Officials at Lambeth would have a rather different perspective, but it is likely to be the new archbishop's judgement that will count.
There are clues as to his attitude from Bishop Welby's first address to the diocesan synod in Durham in which he said he believed in "holy anarchy".
"It is anarchy within an organisation, a sense of diversity, of freedom, and empowering that must move us away from a top-down, centralising, managerial approach that is the curse of the Church of England."
Mr Pitcher's view is that it is precisely the Rt Rev Justin Welby's relative inexperience as a bishop that could allow him to change the system.
"People who've been bishop for a while can't help but turn native, and it's probably just as well that the House of Bishops hasn't had long enough to get at Justin Welby and stop him being who he is."
Practical measures
Who the Rt Rev Justin Welby is, and what sort of leader he'll make will emerge over time, but it's already clear that he will link the mission of the Church, the need to do the work of Christianity, with practical measures.
He has spoken of the need for prayer in the face of economic hardship, but coupled with "heroic action".
In the same address in Durham he described money as "theology in numbers", adding "our sense of who God is... our concern and love for one another are demonstrated in part by our use of money."
He made one priority in the diocese sorting out its finances, giving up his personal chaplain as part of the programme, and the other reversing the drift away from Church membership.
"I think we are called - and it is possible - to turn round the decline in numbers, influence and effect of God's Church that has happened over the last 80 years. We can do that in this diocese, and region, over the next generation or so."
But he believes it will demand rigour in formulating and expressing the Church's point of view, for example in the House of Lords.
"My challenge is to speak in an informed way, and we've got to make sure that we are properly researched. That enables us to be powerful advocates."
He has settled views on the issues dividing the Church - in favour of women bishops, against gay marriage for example - but he will be hard on people who demean their opponents in the Church's impassioned disputes.
As one who has specialised in dispute resolution, often in dangerous circumstances overseas, he believes in "diversity without enmity" as a model for Anglicans.
For the Rt Rev Justin Welby that work begins today.
After the service at St Paul's, and lunch with the Lord Mayor, he has a session of the Commission on Banking Standards, investigating the rigging of Libor.
As he stands on the steps of St Paul's Cathedral, the new archbishop might reflect on how at first he resisted the instinct to become a priest.
He has described how the more he felt the "call", the less he wanted to obey it, but in the end "the sense of call was inescapable".
Mr Walmsley, the bishop's old boss at Enterprise Oil, describes that decision from his own perspective.
"When he came in he had what I recognised clearly as a 'resignation face'. I was thinking, 'What can we do to keep him?' I thought he would certainly have had a good offer from a top 10 or top 50 company.
"But as soon as I heard what he was going to do, and the way he was talking about it, I knew we didn't have a chance."