Police in England and Wales face recruitment shake-up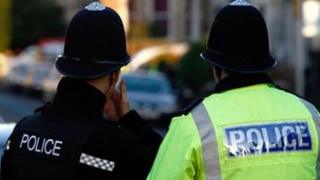 Senior officers from overseas will be able to run police forces in England and Wales for the first time, under a government overhaul of recruitment.
Outsiders will be able to join forces as superintendents and recruits can be fast-tracked to inspectors.
Police Minister Damian Green said the service would benefit from a wider talent pool.
Critics within the police have said some of the plans present "risks" to the public and police officers.
The overhaul is part of a package of reforms put forward by Chief Inspector of Constabulary Tom Winsor, in the widest-ranging review of police pay and conditions in more than 30 years.
Direct entry
The current system sees all police recruits begin work as a constable but, under the proposals, some new starters would be able to skip the compulsory two years on the beat.
The changes being put out for consultation include:
Fast-tracking recruits to inspector level within three years
Allowing outsiders to join as superintendents with 15 months' training
Opening up chief constable roles to senior officers from countries such as Canada, the US, Australia and New Zealand
Current legislation prevented Bill Bratton, former head of New York police, applying to take charge of the Metropolitan Police in 2011.
Under the plans put forward by ex-rail regulator Mr Winsor, a direct-entry scheme for inspectors would recruit about 80 candidates each year and would target graduates from the best universities, and the brightest and the best from within the police service.
He also put forward a scheme for superintendent level in a bid to attract "exceptional" individuals from other fields including the military, security services and industry.
The Home Office proposals herald a fundamental change to the current system of police recruitment, BBC home affairs correspondent Danny Shaw says.
It currently takes about 25 years for a newly recruited constable to work their way to the most senior level, a process that is thought to deter talented people from other professions from joining the police, our correspondent adds.
Several police forces, including Britain's largest, the Metropolitan Police, already have graduate recruitment schemes. They all insist that recruits spend time on the beat.
Police Minister Damian Green told BBC Radio 4's Today programme there was direct entry in other services, including the Army and the prison service.
"Policing is largely successful in this country, crime is down 10% in the past two years," he said.
"But there is no organisation in the world that cannot get better and it must be the case that if you widen the pool of talent, then you will get even better policing in this country."
The changes will happen and the consultation was about the best way to do it, he added.
Ann Barnes, the first police and crime commissioner for Kent and former chair of the county's police authority, has experience of recruiting chief officers.
"The pool I was fishing in was frankly too small. The talent we have is good but there's not enough of them," she told the BBC.
"It's virtually impossible to attract experienced older talent into the service because they don't have time to climb the police ladder to the top jobs. We are saying goodbye to fresh talent and new ideas."
Labour's shadow policing minister David Hanson said a "flexible approach" to police recruitment was "a good thing" but the government needed to ensure training was sufficient.
Promotion frustration
Peter Fahy, lead on workforce development for the Association of Chief Police Officers, said the organisation had no problem bringing in expertise from outside, and "in many forces up to 50% of staff are non-police officers".
He said forces were not short of talent and the changes could see existing officers frustrated in their bids for promotion.
Sir Peter, Chief Constable of Greater Manchester Police, said currently all top officers have experience on the police beat.
"This is the model used by other countries who have followed the British system, such as the USA," he added.
Ch Supt Derek Barnett, president of the Police Superintendents' Association of England and Wales, said allowing people to become superintendents after 15 months' training would present "risks to the public and police officers".
He said it was a misconception that superintendents were desk-bound and in reality, they were the senior operational leaders of the police service.
"One of the benefits of having an operational grounding is that you have been able to deal with critical incidents, you have felt the collar of criminals, you have dealt with the very sad incidence of dead bodies," he told the BBC.
Steve White, vice-chairman of the Police Federation, which represents rank-and-file officers, said it did not support proposals that would allow external candidates to join the police service at any rank above that of constable.
"We believe the rank structure allows officers to perfectly equip themselves for their next role within the service," he said.
But Britain's highest-ranking officer, Metropolitan Police Commissioner Bernard Hogan-Howe, has said he would like to recruit 10% of senior officers from external candidates.
The consultation on the proposals launched on Wednesday 20 January and closes on Thursday 28 March.