Should we pick up other people's litter?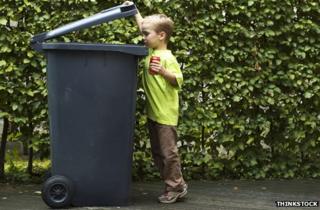 Forget the general knowledge quiz, the most interesting part of the government's new citizenship booklet is that, for the first time, it sets out our civic responsibilities.
The UK government has always been strangely reluctant to spell out what is expected from its people. Citizenship has been an essentially passive legal status involving few demands beyond obeying the law.
But this new list goes beyond legal obligation to incorporate ideas of tolerance, impartiality, social justice and civic duty. This is what it says. If you wish to be a citizen of the United Kingdom you should:
respect the rights of others, including their right to their own opinions
treat others with fairness
look after yourself and your family
look after the area in which you live and the environment
In return, the UK offers:
freedom of belief and religion
freedom from unfair discrimination
a right to join in the election of a government
So the government sees the relationship between citizen and state as, effectively, a deal. But this list is different from the principles behind Britain's post-war social contract which embedded the idea of statutory responsibilities and individual rights. This makes it clear that both citizen and state have obligations.
They are civic duties which have clearly been constructed around the idea of British values: tolerance, fair play, respect for democracy and the rule of law. But do they add up to anything?
The concept of fairness, so engrained in current political rhetoric, is given its own civic bullet-point. Politicians, though, argue about what "fair" actually means, and without explanation one wonders whether this exhortation amounts to more than the equivalent of a mother telling her children to "be nice to each other".
The expectation that citizens should look after themselves and their family appears non-controversial - but there are some who may not be able to do that. The frail, the elderly, the sick and the disabled, those who cannot work for some reason beyond their control - these are citizens who may need help from wider society. Are they deemed to have failed in their civic duty?
For me, though the most interesting item on the list of civic responsibilities is the last one. Citizens are told they should "look after the area in which you live and the environment". This, one assumes, is more than reminding people of their legal duties not to drop litter or let their dog foul the pavement. It would appear to be an active rather than passive obligation.
If that is right, this is a great day for public space. Rather than seeing the management, upkeep and improvement of public space as a job solely for the state, this new booklet seems to be saying that it is something we should all be doing.
Rather than telling citizens they must not drop litter, it seems to be saying they should pick it up.