Syria conflict: Britain to provide extra £21m in aid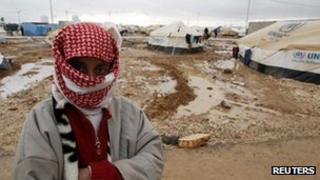 The UK is to provide £21m in new humanitarian aid for people caught up in the crisis in Syria, the government has said.
International Development Secretary Justine Greening said the aid would "help deliver life-saving winter clothing, food and medicine".
Ms Greening is visiting Jordan where Syrian refugees are arriving in unprecedented numbers.
The extra funding means the UK has now provided £89.5m in aid for Syria.
On Friday, a UN official told the BBC there had been a huge leap in the numbers of Syrian refugees entering the country, which was putting a considerable strain on resources.
Some 6,400 Syrians have arrived at the main refugee camp in Jordan in the last 24 hours alone, fleeing the continuing fighting a well as food and fuel shortages, according to the UN.
The UN described the flow of people as "absolutely dramatic".
'Still not enough'
Speaking in Jordan, Ms Greening said: "My visit today has given me the chance to see first-hand the incredible generosity of spirit that ordinary Jordanians have shown in opening their homes to complete strangers in need.
"It's a story repeated in towns and villages in Syria's neighbours across the region, and I salute these ongoing efforts from governments and host communities alike. But we cannot and must not leave them to shoulder this response alone."
Just under half of the new British aid funding will go towards helping Jordan cope with the growing influx of people, particularly those who are most vulnerable in the winter conditions, Ms Greening said.
It will be channelled through agencies, aiming to reach people both in government and opposition-held areas.
Remaining aid will help restock medical facilities and treat tens of thousands of injured and sick people inside Syria. It will also be used to buy them vital supplies of bread and flour.
Ms Greening said the UK and a handful of others had "consistently led the way in responding to this crisis", but added the "vast majority are still not doing enough".
"This is simply not acceptable and it has to change," she added, calling for the international community to "get behind the UN and [turn] vague promises into actual support".
Refugees to double
The UN is due to hold a conference in Kuwait next week in an attempt to reduce a significant shortfall in aid pledges, as the humanitarian cost of the conflict intensifies.
It has warned the number of Syrian refugees in neighbouring countries could double to 1.1 million by June if the civil war does not end.
The conflict in Syria began almost two years ago with demonstrations against the government of President Bashar al-Assad.
The protests quickly turned violent as opponents of Mr Assad took up arms to try to resist a brutal crackdown by the authorities.
The conflict has left more than 60,000 people dead and two million internally displaced.
The UN's refugee agency, the UNHCR, said there were now more than 670,000 registered Syrian refugees and people awaiting registration in Jordan, Turkey, Lebanon, Iraq and Egypt.