Mali: RAF surveillance aircraft Sentinel deployed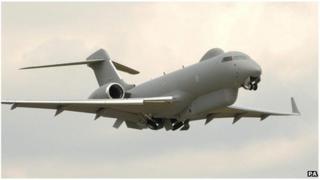 A surveillance aircraft from RAF Waddington has been sent to Mali to support France's military action there, the Ministry of Defence said.
Defence Secretary Philip Hammond said the Sentinel R1 aircraft "has proved its worth in Libya and on an ongoing basis for counter-insurgency operations in Afghanistan".
Two British C17 transport aircraft have already been sent to the region.
Mr Cameron has previously said Britain will not deploy ground troops in Mali.
French request
The Sentinel will be deployed on Friday from RAF Waddington in Lincolnshire to, initially, Senegal. The RAF has a fleet of five Sentinels, but only one is being sent to west Africa.
Mr Hammond said: "As the prime minister has made clear, the UK supports France's decision to provide military support to the Malian government.
"He also said in the House that we would be looking at further French requests for additional logistical and surveillance support for this operation, over and above the two C-17s.
"Following NSC on Tuesday and discussions with the French, we have now decided to deploy Sentinel.
"We have also agreed to continue to make available a C-17 heavy lift transport aircraft which has already provided important logistical support over recent days."
Training forces
Earlier this week, Mr Cameron spoke of a global "generational struggle" against al Qaida-inspired Islamist terrorism in North Africa.
He also said the UK should "thicken" links with region following this month's hostage crisis in Algeria at a gas facility, in which 69 people are known to have died.
Three Britons are known to have died in the attacks and a further three are believed to be dead, along with a British resident from Colombia.
Mr Cameron also said Britain would provide troops to an EU mission to train the Malian military, who are fighting Islamist militants who have taken over the north of the country.
The mission, due to deploy in February or March, is expected to include about 250 trainers and 250 force protection troops.
The prime minister said the British contribution would number "in the tens, not the hundreds".
The Sentinel spy plane is a modified business jet which uses radar to create accurate real-time images of what is happening on the ground, and was used in Libya during the uprising against Colonel Gaddafi. They continue to be used in Afghanistan.
The RAF's fleet of Sentinels, their airborne stand-off radar (ASTOR) and a through-life support contract will cost the UK taxpayer £1bn over 10 years.
The MoD has said the "capability" of the RAF's Sentinel will be reviewed in 2015 Strategic Defence and Security Review.