LTB label for disabled and jobless people 'offensive'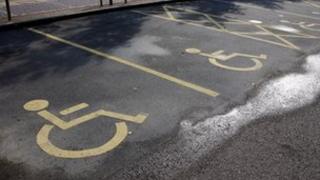 On paper, Linda Smith's job with an Aberdeen company was straightforward - she was meant to be helping the long-term unemployed - many of them disabled - to find jobs and move off benefits.
The reality, she said, was a corporate culture that saw staff in training sessions referring to those same people as LTBs - code for "lying, thieving bastards".
"That is how they are referred to," she said of the clients of Triage, which is a key player in the government's ambitious plan to pay private companies to move people from benefit into work.
There are 2.5m long-term sick and disabled unemployed people in the UK. The cost to the taxpayer is £13bn a year.
The government's £5bn Work Programme has identified 68,000 disabled people in receipt of incapacity benefit who it believes can work.
'Bucks, ker-ching'
To achieve that, 18 main providers have been contracted to do the work and are paid in stages when the clients are referred and when they find jobs. A further payment is made if they stay in work for two years. It is called payment by results.
Mrs Smith said her time working at Triage - a sub-contractor to two of those main providers - was an eye-opener. She said the nature of the scheme is that the firms earn more money from taking on the disabled as clients.
"These people were probably more difficult to place in employment for us as employment workers, but for them (the company) these people were bigger money... these people were the bucks, the ker-ching."
But once those people were on the company's books, and an initial fee paid, Mrs Smith said the company - which operates in Scotland and northern England - told its staff to spend as little time and effort as possible on helping them find jobs.
She said the practice is known as "parking". Four other former Triage employees told the BBC similar stories of being told to "park" clients rather than actively help them find work. They also confirmed the use of the term "LTBs" to describe their clients.
"They would be put on telephone interviews... just to make sure that there was this contact made so they could tick a box to say, 'Yeah, they're still on the Work Programme'," Mrs Smith said.
'Frequency of contact'
Tony Wilson, 34, from Middlesbrough, had been unemployed and receiving incapacity benefit for almost nine years before being referred to the Work Programme through Triage in February 2012.
Mr Wilson said he suffers from depression, anxiety disorder and borderline personality disorder and he believes he has been "parked".
He said he has met his adviser only three times, some of the courses he was told he would be sent on have not happened and he has not even been asked to produce a CV. He said his contact with Triage has been reduced to occasional phone calls.
"They haven't done a single thing to help me in any way."
When told of the LTB label allegedly given to those on long-term benefits, he said: : "That's offensive. It's unprofessional. It's - so many words I could say about that. It's just wrong."
In response to the allegations about parking, Triage said in a statement: "It is standard practice, particularly for those clients that are sick or who have otherwise been unable to attend, to telephone them to check on their progress and maintain contact. Triage's delivery structure of the Work Programme does not allow for 'parking'.
"The compliance requirements of the programme demand a frequency of contact and this together with our own commitment to excellence and meeting client needs means that 'parking' is not an option."
Triage also said the term LTB was referring to an isolated incident, adding: "This is not a phraseology used or accepted by Triage."
Left behind
Mrs Smith's concerns about the attitude of some Triage staff comes as a survey of charities and other organisations recruited to back up the 18 main providers conducted by the BBC found that many do not feel the Work Programme is delivering.
In the survey of 348 organisations listed with the Department for Work and Pensions, so-called Third Party providers, 184 answered a series of questions about their involvement in helping the long term sick and disabled to find work.
The survey found:
77% of organisations with specialist expertise to support disabled people believe that expertise has not been correctly utilised by the main provider
80% of organisations which responded had fewer referrals than they expected
40% of respondents have had no referrals at all
And 40% of those which responded said they were not actually part of the Work Programme, therefore should not be on the DWP's list.
The RNIB Group (Royal National Institute of Blind People) was one of the organisations that did sign on to help big companies to get the visually impaired into work.
Steve Winyard, head of policy and campaigns for RNIB, said the programme has failed to deliver the promised support to help people move into paid employment.
"It is a disaster. The latest data that has come from DWP (Department for Work and Pensions) shows that there have been zero successful placements in work for blind and partially sighted people. That's meant to be the core outcome and it is just not delivering."
Justin Urquhart Stewart is a financial analyst who examined the Work Programme's payment-by-results financial model. He said it was designed in a way that encourages companies to cherry-pick the people who are fairly easy to move into jobs.
"Sadly, if you do not have the experience, if you do not have any training and maybe you are disabled, then you're going to be left behind."
Mark Hoban, Minister for Employment, said he was confident the Work Programme could deliver.
"It is early days... but what we've seen is that 200,000 people have got work through the Work Programme. That's a good start, but clearly we know there's more that needs to be done."
Panorama: The Great Disability Scam? is on BBC One, Monday, 28 January at 20:30 GMT and then available in the UK via the BBC iPlayer.
For viewers in Scotland, BBC Scotland Investigates Parking the Disabled, BBC One at 20:30 GMT.