Contaminated horsemeat sold for food, FSA admits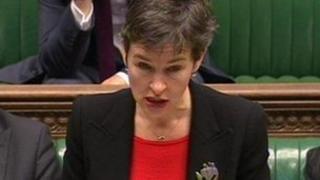 The Food Standards Agency has admitted five horses that tested positive for a drug harmful to humans were exported to France for food.
Earlier, shadow environment secretary Mary Creagh said "several" UK-slaughtered horses with phenylbutazone, or bute, may have been sold for food.
The FSA said it identified eight cases of bute-positive horsemeat in 2012, none of which was for the UK market.
The drug is banned from being consumed by humans within the EU.
The FSA added that the other three horses that tested positive did not enter the food chain.
"Where the meat had been exported to other countries, the relevant food safety authorities were informed," it said. "None of the meat had been placed for sale on the UK market."
The news comes after traces of horse and pig DNA was recently found in some burgers.
Some of these were sold in Tesco, Iceland, Lidl, Aldi and Dunnes stores in the UK and Irish Republic. Tesco took out adverts in British newspapers apologising for selling some of the burgers.
There is no suggestion that these burgers contained phenylbutazone.
'Right to know'
Phenylbutazone is an anti-inflammatory drug that is given to horses for the treatment of lameness, pain and fever.
It is thought to cause bone marrow disorders in rare cases - and horses that have been administered the drug should have the information recorded on their passport.
But Labour claims the issuing of horse passports in the UK is fragmented, as there are 75 approved issuing organisations in the UK, with no national database to track the information.
Speaking prior to the FSA's statement, Ms Creagh told agriculture minister David Heath in the Commons: "I am in receipt of evidence showing that several horses slaughtered in UK abattoirs last year tested positive for phenylbutazone, or bute, a drug which causes cancer in humans and is banned from the human food chain.
"It is possible that those animals entered the human food chain."
When Ms Creagh asked if Mr Heath was aware of the phenylbutazone cases to which she referred, the minister replied: "The Food Standards Agency carry out checks in slaughterhouses to ensure that equine animals presented for slaughter are fit for human consumption in the same way as they do for cattle, sheep and other animals.
"In addition, the FSA carry out subsequent testing for phenylbutazone and other veterinary medicines in meat from horses slaughtered in this country.
"Where positive results for phenylbutazone are found, the FSA investigates and takes follow-up action to trace the meat."
Ms Creagh then asked if that meant Mr Heath was aware of the issue.
"I'm astonished that you have not raised this and I think the public have a right to know," she said.
'No evidence'
She also said the news was a "very serious development" and demanded action to ensure that "illegal and carcinogenic horsemeat stops entering the human food chain".
And she called on the government to reverse a "reckless" decision to end the National Equine Database.
But Mr Heath replied: "There is no difficulty in tracing the use of a horse passport. To suggest the National Equine Database was required to do that is simply erroneous."
Alastair Hay, professor of environmental toxicology at the University of Leeds, disputed Ms Creagh's claims about the drug causing cancer in humans.
He said there was "no convincing evidence" of phenylbutazone's carcinogenicity in humans "because in the individuals studied many other drugs had also been taken and any one of these might have caused the cancers seen".
And there is no animal evidence either that it is a carcinogen, he added, saying that "phenylbutazone is not classifiable as to its carcinogenicity" according to the International Agency for Research on Cancer.
"The reason the chemical is not for human consumption appears to be rare and idiosyncratic responses in humans to the chemical. These include aplastic anaemia and some other disorders of the bone marrow. But these are not cancer events."