Newspaper review: Papers view Cameron's EU pledge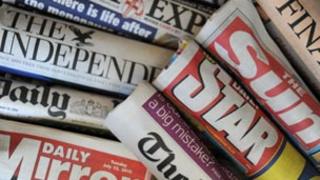 There is strong support for David Cameron's promise of an in-out referendum on Europe by the end of 2017 from the leader columns of the Daily Telegraph, Daily Mail and Daily Express.
But Peter Oborne, in the Telegraph, says the prime minister has simply moved an unexploded bomb, which remains ticking under the Conservative party, and has not been defused.
The Independent believes that by calling Britain's membership of the EU into doubt, he has allowed political pressures to cloud his judgement of the country's best interests.
The Guardian argues that - far from being an act of political mastery - the referendum could prove to be the prime minister's "career-defining error".
Under the headline "Tories sailing on clear blue water", the Times says the Conservatives may be the only main party to go to the polls in 2015 offering voters a say on Europe.
Problem solving
The Guardian's front page highlights a warning from the chief medical officer that drug-resistant diseases could trigger a national emergency comparable to a catastrophic terrorist attack, pandemic flu or major coastal flooding.
Dame Sally Davies believes the threat from infections that are resistant to antibiotics is now so serious that the government should add the issue to its national register of possible civil emergencies.
The Daily Mail reports that just one in 20 parents is able to solve problems intended for children aged between eight and 12.
And nearly two thirds of parents are reluctant to help with maths homework for fear of confusing their children.
Lunch break
Elsewhere, the Sun says Burger King is dumping millions of beefburgers supplied by the firm involved in the horsemeat scandal, days after insisting that it was unaffected.
The company tells the paper the move is "precautionary".
It says its statement last week that there was no horsemeat in its burgers "was accurate at the time of issue".
The Daily Telegraph is among several papers to report calls from Public Health Minister Anna Soubry that office workers should take a proper lunch break.
She describes eating a sandwich at the office desk over a keyboard as "disgusting" - and says we should all take the time to cook and enjoy meals.
Moment of madness
Finally, the back pages are dominated by the sending off of Chelsea player Eden Hazard for kicking a ball boy.
The Sun calls it an "act of astonishing brutality" that shamed Chelsea. The Daily Mirror predicts that a long ban for the player will follow.
The Guardian says it was a "shabby end" to Chelsea's Capital One Cup exit.
The Daily Express says Swansea celebrated reaching their first major cup final, but the match will be remembered for his moment of madness.