Afghanistan: No outright winner, says Hammond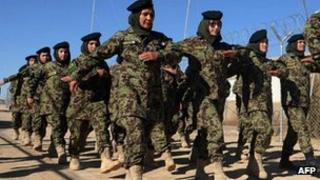 The Afghan government is unlikely to "win outright" against the Taliban once foreign troops leave, Defence Secretary Philip Hammond has said.
He said there was a "growing realisation on both sides of this fight that neither would win".
But he expected the Afghan government would hold the main population centres after troops left by 2014.
Responsibility for security is being handed to Afghan forces, who now oversee 80% of the population.
Mr Hammond, appearing before the defence select committee to talk about securing the future of Afghanistan, said: "I would expect attempts at dialogue, at groping towards a peace process to continue.
"I would expect the situation to be messier than it is today with Isaf at present on the ground, but I sense that there is a growing recognition on both sides of this fight that neither side can win outright."
Britain's national interests
He said the handing over of security to Afghan forces was a "process", with British troops leading initially, gradually moving to the Afghans being in control.
"We have a plan - which is quite an ambitious plan - to transfer security responsibility to the Afghan national security forces... in a way that allows the Afghans to maintain control of their territory and deny it to international terrorists of the type we that we have recently had a reminder of in another part of the world."
He said: "Because, effectively, Afghanistan is not now on any scale harbouring international terrorists, it is easy to forget that just a few years ago we were looking at these kind of threats coming from Afghanistan.
"We have a process here that is very much driven by Britain's own national security interests. We can't cut and run before we've completed that process."
He described the Taliban as still being "a significant force" but one that "is struggling to maintain the momentum of the insurgency".
He dismissed criticism that the presence of foreign troops was the cause of violence, saying that the mission's role was to clear al-Qaeda, help the Afghan state establish itself and then to train security forces.
Unwanted equipment
Mr Hammond said the Ministry of Defence would only bring back equipment from Afghanistan which it needed. Unwanted military equipment would be sold, gifted or destroyed.
It was too early to say what equipment might be left behind but he said there were the equivalent of 11,000 container units of kit in Afghanistan and that around 6,500 containers would be brought back to the UK.
British troop numbers were reduced from 9,500 to 9,000 before Christmas and numbers are set to fall to 5,200 by the end of 2013.
The remainder will leave by the end of 2014, when all Nato operations are due to finish, although a small number will remain after that, working at an officer training academy and in other support roles.