Snow continues to grip parts of UK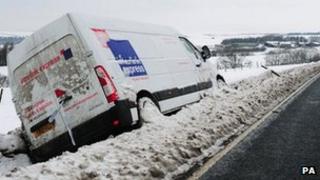 Snow continues to grip parts of the UK with roads in parts of south Wales and south-west England affected.
In Pembrokeshire, a school bus taking 40 pupils home slid off the road but no-one was hurt. The head teacher said conditions were "probably the worst" he had seen in 25 years.
Hundreds of schools remained closed across the UK, although numbers shut were down on the start of the week.
Forecasters predict milder and wet conditions by the weekend.
In Somerset, gritter crews have had their work cut out after almost 15cm of snow fell in 24 hours.
Somerset County Council said that, to combat icy conditions for motorists, twice the usual amount of salt would be used to treat roads on Wednesday night.
The freezing temperatures across the UK are expected to continue until Saturday.
The Met Office has issued yellow warnings advising people to "be aware" of more snow in parts of Wales, south-west England, north-west England, and eastern and north-eastern Scotland on Wednesday evening.
It says icy surfaces will continue to be a threat across much of the UK, especially where snow has fallen over recent days.
The Environment Agency says rain and melting snow are expected to lead to rising water levels in rivers in south-west England and has three flood warnings in place.
In other developments:
Some flights were cancelled at Heathrow on Wednesday. The airport said it was "fully operational" but acknowledged there might be further disruption due to the conditions in the UK and Europe.
Speaking on BBC Radio 4's Today programme, the airport's chief executive, Colin Matthews, said Heathrow had invested £36m in snow-clearing equipment and was "in no way in the same position as 2010" when a runway closed for nearly four days.
He said two-thirds of flights operated on Monday and nearly 90% on Tuesday.
"I'm really sorry for every passenger who got caught up with the disruption and the cancellations but the fact is when it snows we have to clear the snow off the runway," he said.
"It takes us a little time to clear the snow off and during that time we can land less aircraft and take off less aircraft than in normal conditions and therefore because we are full any amount of snow is going to cause some disruption."
The enhanced content on this page requires Javascript and Flash Player 9
Map Key
Land
Cloud
Lakes, Rivers & Sea
Fog
Light
Heavy
Frost
Light
Heavy
Pressure Fronts
Cold
Warm
Occluded
Rain
Light
Heavy
Extreme
Snow
Light
Heavy
Temperature tab only
Temperature (°C)
More details from BBC Weather