Campaign to 'end hunger for ever' launched by UK aid organisations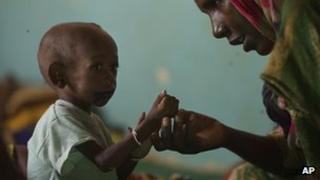 More than 100 aid organisations have come together to launch a campaign against hunger to coincide with the UK's role heading the G8 this year.
The Enough Food For Everyone IF campaign is the UK agencies' biggest joint mobilisation since Make Poverty History in 2005.
Justin Forsyth, head of Save the Children, said: "We could be the first generation to end hunger for ever".
Global figures including Bill Gates and Desmond Tutu are backing the efforts.
Mr Forsyth said: "We didn't make poverty history in 2005 but we did make big strides forward. We lifted millions out of poverty. The Achilles heel of that progress is hunger."
Nobel Peace Prize winner Archbishop Tutu said hunger was something that could be tackled.
"Hunger is not an incurable disease or an unavoidable tragedy. We can make sure no child goes to bed hungry," he said.
"We can stop mothers from starving themselves to feed their families. We can save lives.
"We can do all of this, if we are prepared to do something about it. If we challenge our leaders to take action. If they listen to us."
Those who back the campaign believe there can be enough food if:
We give enough aid to stop children dying from hunger and help the poorest families feed themselves;
Governments stop big companies dodging tax in poor countries, so that millions of people can free themselves from hunger;
Poor farmers are not forced off their land and "we grow crops to feed people, not fuel cars";
Governments and big companies "are honest and open about their actions that stop people getting enough food".
But BBC international development correspondent David Loyn says engaging politicians and the public will be harder this time round amid the global economic downturn.
The IF coalition urged Prime Minister David Cameron to use the UK's presidency of the G8 in 2013 to address the problem of hunger in developing countries.
Ben Jackson, chairman of the coalition, said: "We should be proud of the great strides we are taking as a world to reduce poverty and tackle infectious diseases, but it is still the reality that more people die each year from hunger than from Aids, malaria and TB combined.
"In a world where there is enough food for everyone, this is nothing short of a scandal.
"We need a concerted effort from governments, civil society and philanthropists to tackle the root causes of this problem and together build a world where no child has to go hungry."