UK troop reduction in Afghanistan 'in autumn'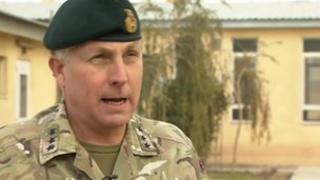 The withdrawal of 3,800 UK troops from Afghanistan this year is unlikely to take place until the autumn, Britain's top general in the country says.
Responsibility for security is being handed to Afghan forces, who now oversee 80% of the population.
Lt Gen Nick Carter said the insurgency tended to be at its "highest tempo" in the summer months.
He said the UK would take this into account as it sought to "manage" the reduction of troop levels to 5,200.
"We tend to try to work this around periods of very high operational tempo," Gen Carter told the BBC in his first interview since taking charge,
"It's well known that during the summer, the insurgency is at its highest tempo. So what we will choose to do is manage that after that period, which would mean the autumn time would be the logical period to do this."
British troop numbers were reduced from 9,500 to 9,000 before Christmas and numbers are set to fall to 5,200 by the end of 2013.
The remainder will leave by the end of 2014, when all Nato operations are due to finish, although a small number will remain after that, working at an officer training academy and in other support roles.
Gen Carter's comments come as the MoD announces a third round of 5,300 Army redundancies - as part of a drive to cut the number of regulars in the UK's Army from 102,000 to 82,000 by 2017.
Bases closing
In central Helmand, British troops are handing over or closing operating bases at the rate of one a week.
The accelerated drawback is reflected in casualty numbers. Three years ago a coalition soldier was killed every 18 hours in Helmand.
Halfway through their current six-month tour, seven British soldiers have been killed in Helmand - one in direct combat, the other six in insider attacks when Afghan security forces turn their weapons on their foreign partners.
And as the Afghans start to take the lead, their casualty figures are increasing.
The focus now is training as the Afghan security forces are expected to take full responsibility for security later this year.
British troops no longer train Afghan police directly. It is now Afghans training Afghans. But a great deal of support is still required and the insurgency is far from over.
Asked whether Afghan security forces were ready to face the Taliban alone, Gen Carter said: "In a straightforward tactical fight I think the answer to that question is 'Yes they can.'
"What's much more challenging for them is the institutional development of their army. And how their army is logistically sustained and supported and how in institutional terms it's connected to the ministry of defence, through its general staff down to the corp and brigade level."
The Afghan army is still lacking military essentials, according to Sgt Glen Miller, who has done multiple tours of the country.
He said: "The challenges will be the things that they can't really provide. Full medical helicopters and things like that. If they get a casualty, a serious casualty, they can always rely on us."
And what of the Afghan forces themselves?
Afghan army officer, Major Mohammed Ashraf, said, "Military training is our top priority. We need the modern weaponry that other countries have… armoured vehicles, transport planes and helicopters, those would all be good to have."
But in the months ahead, as British troops pull back to the UK's biggest bases, the only soldiers left out on the ground will be Afghans.