Frozen UK braced for more ice and snow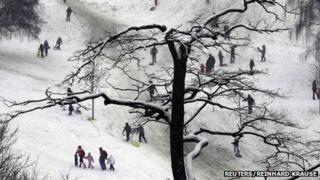 Ice and freezing temperatures are continuing to affect the UK as snow continues to fall.
The Met Office said a band of snow was spreading north across parts of south-east and east England and the Midlands.
The snow, up to 8cm (3in) in places, is expected to reach north Wales and north-eastern England later.
Birmingham Airport closed and Heathrow Airport cancelled 300 flights as the weather continues to disrupt air and rail services.
Heathrow Airport said it had reduced Sunday's flight schedule by around a fifth and Monday's flight schedule by 10% - about 130 fewer flights.
Details of which flights will be cancelled will be announced by airlines when they have finalised their schedules, the airport said.
On Sunday evening, a number of British Airways flights to Heathrow's terminal five were diverted to other UK airports after BA was unable to de-ice planes on the ground quickly enough to clear the stands.
Birmingham Airport suspended all flights for two hours, in order to clear snow, while at London City Airport, more than 40 flights have been cancelled.
The airport urged passengers to check their flight status before travelling to the airport.
Belfast City Airport's runway was also temporarily closed to allow snow to be cleared, but has since reopened.
The weather has also disrupted train services with some trains being replaced by buses.
Eurostar, Southeastern, South West Trains and First Capital Connect have all reported either delays or cancellations due to the adverse conditions. Southern and South West Trains will also be operating amended timetables on Monday.
In other developments:
Forecasters warn sub-zero overnight temperatures will lead to ice forming where snow has fallen or melted during Sunday.
Drivers are warned road conditions are unlikely to improve on Monday and drivers should take extra care.
An amber warning, which means be prepared, has been issued for snow in north-east and north-west England, Yorkshire and Humber and most of Scotland for Monday.
Martin Young, Met Office chief forecaster, said: "Many parts will stay icy over the next few days, and there is the continuing risk of some snow at times almost anywhere."
Latest local news, travel and weather
The Met Office warned more than 10cm of snow is expected in parts of northern England and the Scottish Borders on Monday.
It added drifting was also likely in strong to gale-force easterly winds.
Forecasters said the snow should gradually ease from the south during the day.
For more information on the weather and transport situation in your area, visit the BBC Weather website and BBC Travel News.
The enhanced content on this page requires Javascript and Flash Player 9
Map Key
Land
Cloud
Lakes, Rivers & Sea
Fog
Light
Heavy
Frost
Light
Heavy
Pressure Fronts
Cold
Warm
Occluded
Rain
Light
Heavy
Extreme
Snow
Light
Heavy
Temperature tab only
Temperature (°C)
More details from BBC Weather