Government bought 8,600 Games tickets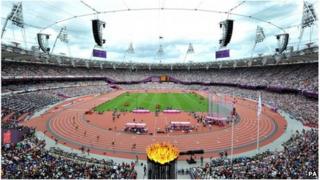 The government has confirmed it bought more than 8,600 tickets at a cost of nearly £1.2m for the London Olympics.
About 4,000 tickets, costing £916,000, were paid for by central government, with the rest - worth about £300,000 - bought by staff or London councils.
The Department for Culture, Media and Sport said it wanted to maximise the economic boost from the Games.
In November 2011 the department revealed it had bought just over 8,800 tickets at a cost of nearly £750,000.
At the time the Department for Culture, Media and Sport was understood to have put in bids for the entire government with the allocation to be shared across departments.
Costliest ticket
Latest figures show ministers used 60 tickets, the most expensive a £725 seat at the athletics.
While former Treasury minister Lord Sassoon used the costliest ticket, Foreign Office minister Alistair Burt received the most tickets totalling £605 and watched two cycling events, diving, football and gymnastics.
Of the remaining tickets 2,381 were bought by staff who had worked long-term on the games or Ambassadors.
A spokeswoman from the Department of Culture, Media and Sport told BBC News they would not go into details about why one particular minister was given tickets to a particular event or why the amount of money spent on tickets had gone up since November 2011.
"We were clear that we wanted to make the most of hosting the London 2012 Olympics and Paralympics as a driver for growth, and decided that it was right to invest in order to maximise the economic benefits for the country," she added.
"The government paid-for tickets were used to invite and accompany a number of international and domestic political and business leaders, as well as guests with a close connection to the Games and its legacy.
"All invitations were issued against the following criteria: encouraging growth, encouraging health and sports participation, encouraging community engagement and volunteering."
The National Audit Office said 11 million tickets were sold to the London 2012 Games.
More than seven million people visited Olympic venues during the games with 2.5 million people visiting the Olympic Park.