Police Federation chairman Paul McKeever dies in hospital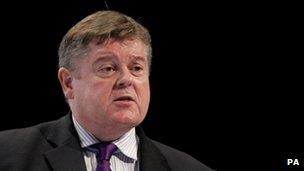 Paul McKeever, the chairman of the Police Federation of England and Wales, has died in hospital.
The federation, which represents rank and file officers, said Mr McKeever, 57, had suffered a suspected embolism.
It praised Mr McKeever, who took on the post in 2008 and was due to retire later this month, as a "true gentleman" and "truly outstanding police officer".
Mr McKeever joined the Metropolitan Police in the 1970s and had been a key figure in the federation for 20 years.
As one of the police's most visible spokesmen, he clashed repeatedly with the government over cuts to police budgets and force numbers, which he argued were putting public safety at risk.
Announcing his decision to retire last summer, he expressed his concern that the work of police officers was being "denigrated".
Mr McKeever also entered the row over former cabinet minister Andrew Mitchell's altercation with police officers outside Downing Street, criticising the MP's behaviour and saying his resignation was "almost inevitable".
But after doubts were raised about the conduct of police officers in the row and the validity of the claims against Mr Mitchell, Mr McKeever said he would apologise if Mr Mitchell was found to have been wrongly accused.
In a statement, Steve Williams, who is due to succeed Mr McKeever, said he had been "a truly outstanding chairman, and most importantly a truly outstanding police officer and man.
"A true gentleman, his leadership and reputation will be remembered highly by all those who knew him," he added.
Metropolitan Police Commissioner Bernard Hogan-Howe said he was "deeply saddened" by the news.
John Tully, chairman of the Metropolitan Police Federation, said Mr McKeever's death had come as a "total shock to everyone", adding that he had led the Federation through "perhaps the most demanding time in its history".
The Police Superintendents' Association of England and Wales also paid tribute to Mr McKeever.
"He was a man who was proud to be a police officer and worked tirelessly on behalf of the public and members of his federation to improve policing," its president Derek Barnett said. "He will be very sorely missed."
Mr McKeever, who was married with one daughter, joined the police from university and served as a frontline officer in London for 15 years, during which time he was on duty during the riots in Brixton in 1981 and 1985.
As well as his role as federation chairman, Mr McKeever served as chairman of the Staff Side of the UK Police Negotiating Board and was a board member of the Police Leadership College.