Newspaper review: Algerian hostage crisis was 'disastrous'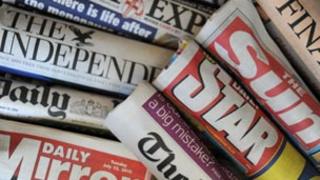 The papers display little surprise at the violent end to the hostage crisis in Algeria and the action taken by government forces there last night.
The Times and the Independent say David Cameron is "furious" the Algerians launched a military operation without asking or telling Downing Street.
A source tells the Daily Mail: "We asked them not to go in with all guns blazing, and they just did it anyway."
The Daily Telegraph says other western leaders had also urged caution..
It reports there is growing international anger about the "disastrous climax" of the incident.
The Guardian says there are questions about the tactics used by Algeria, with reports from the scene saying helicopter gunships were used.
The Times agrees the operation must be "intensively scrutinised" - but also stresses the importance of the decision not to negotiate with terrorists.
'Frantic scenes'
The papers note Mr Cameron was forced to postpone his speech on Europe.
The Daily Mirror and the Daily Mail agree it was the right decision, the Mirror saying it would have been wrong to be politicking in the shadow of such grave events.
But there is concern too. The Sun says extracts which have been released show it was the strongest attack on the EU by a serving prime minister.
And now many questions are still unanswered, says the Daily Mail. The delay will give Mr Cameron a political headache, it adds.
The Daily Express says the army is on standby ahead of the heaviest snowfall in years which is threatening to plunge the country into a "full-scale national emergency".
Panic buyers have cleared the shops of essential items, and that there were "frantic scenes" in south Wales, where a rare red alert of bad weather has been issued by the Met Office, says the Daily Mail..
But the Daily Star points out the authorities have known for days that the snow was coming..
They should have been prepared instead of simply advising people to stay indoors, the paper complains.