Operation Elveden: Three arrested in Hertfordshire and Surrey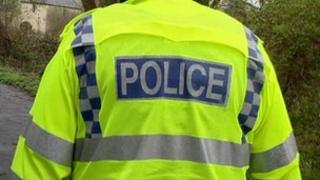 Police investigating inappropriate payments to police and public officials have arrested three more people.
The investigation, Operation Elveden, is running alongside Operation Weeting, the phone-hacking inquiry.
Two serving police officers and a journalist were arrested at separate home addresses in Hertfordshire and Surrey early on Thursday, police said.
The BBC understands Sun journalist Anthony France was one of the three. The men were later bailed until April.
Mr France works as a crime reporter for the newspaper.
Police said several searches were being carried out following the arrests, which were made in connection with a number of suspected offences dating from between 2004 and 2011.
Police also said a 39-year-old man, a journalist, was arrested in Hertfordshire on suspicion of conspiracy to corrupt and suspected conspiracy to cause misconduct in a public office. He is being interviewed at a police station in north London.
A 47-year-old man, a police officer in the Metropolitan Police's specialist operations command, was arrested in Surrey over suspected misconduct in a public office and suspected corruption. He will be interviewed at a Surrey police station.
And a 30-year-old man, a police officer serving in the Met's specialist crime and operations command, was arrested in Surrey over suspected misconduct in a public office. He is being interviewed at a south London police station.
News International chief executive Mike Darcey said having another journalist from the company arrested was "particularly disappointing".
In an internal message to staff, Mr Darcey said: "It is particularly disappointing that these incidents, the first under my watch, and which have recently become less frequent, continue to take place.
"We will continue to seek further clarity on the state of the police investigations.
"We have provided our colleague with a lawyer and we are helping him in any way we can. It goes without saying that we will not prejudge the outcome of any investigation. All those who have been arrested have our full support."
Police duties
The specialist crime and operations command deals with a range of serious offences in London, including murder, rape and organised gangs.
Specialist operations deals with protection of public figures including the Royal Family and government ministers, counter-terrorism and security at the Houses of Parliament and at London City and Heathrow airports.
Scotland Yard says the arrested specialist operations officer does not work in the royalty protection unit or the diplomatic protection group.
These arrests bring the number of Operation Elveden arrests to 56.
They are a result of information provided to police by News Corporation's management and standards committee, which was set up in the wake of the phone-hacking scandal at the now-closed News of the World.
Operation Elveden arose out of Operation Weeting, an ongoing investigation into phone hacking following the allegations made about the News of the World.
To date, eight serving or retired police officers have been arrested by officers from Operation Elveden.
Earlier this month Det Ch Insp April Casburn, 53, of the Met Police, who lives in Essex, was convicted of trying to sell information on the phone-hacking probe to the News of the World in Operation Elveden's first prosecution.
Elveden is looking at documents handed over by News International in June 2011 which are being assessed by police for "information relating to alleged inappropriate payments to a small number of officers".